New solo axel backs
---
I went SOLO and dang my car sounds like a V8 should. Will be getting an X-pipe plus I'm gonna do the ol' camero intake with stock box and a K & N.
Congratulations! Join the club.... SOLO's should have been my first mod!
---
2009 G8 GXP, SRM, M6, Onyx, Roof. (#1818 of 1829) a.k.a Gianna
Show: Tint, VG Sharkfin, 3M clear bra, 6000k HIDs, 20" TSW Interlagos.
Go: BMR, GForce, MGW, Monster Clutch, 3" SOLO, Dynotech, Squash DW255s, Tein, NLP Twin Turbo!
Stock: 363 whp/367 tq SAE (Dyno Jet) 13.149 @ 108.21 mph
Mods (old): 399 /399 SAE (Dyno Jet) 12.711 @ 108.66 1.548 60' w/MT ET Streets
Mods (new): 602/614 SAE 10 psi, 6* (Dyno Jet) 11.33 @ 125.26
Any chance of posting a sound clip? Im still deciding on what sound I like
Senior Member
Join Date: Jun 2010
Location: Greensboro, NC
Posts: 239
---
__________________________________________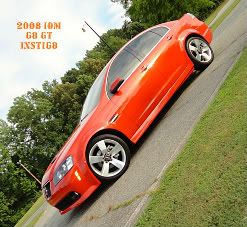 2008 IOM G8 GT with Premium and Sport Package with Sunroof.
Cortex Roto Fab 93 Octane Tune, Roto Fab CAI,
Roto Fab Radiator Cover, Partial Debadging, Tint 32% - (LEGAL)
GXP Rear Diffuser, Grafxwerks - Airbag Tint
Neondial Clear Markers
Solo axle-back.
06 GTO SRM w/ 18's - Sold
Senior Member
Join Date: Dec 2012
Posts: 163
I like the solo tips, i just installed some kooks tough.
Administrator
Join Date: Aug 2008
Location: Buffalo, NY
Posts: 10,240
Awesome feedback, SOLO has seen much success with the g8 community. I still love that initial bark on cold-start .... music to my ears. But I have a slightly different solo config, headers, hfc's, and my favorite of all solo setups, "mach unbalanced catback" ...

Welcome to the solo club.

Wait till they carbon up a bit from a few hundred miles of driving... they should sound even better.
---
2009.1 ZEPCOM MGM G8 GT
Kooks LT's, SOLO HFC & Mach Unbalanced with J-pipes, SLP Tips.
Livernois tune, VCM, FE3's, Blue gauges, iphone on display. Daily Driver FTW
The ZEPCOM G8 was SOLO's test mule
www.youtube.com/zepcom
Mack
Join Date: Nov 2012
Location: Atlanta, GA
Posts: 1,000
Sub'd. I can't wait to join the SOLO club. Still trying to choose between SOLO Mach Balanced and SOLO Mach. Instig yours sounds great!!!
---
2008 Pontiac G8 GT: 10.928 @ 125.840 MPH
1.52 60' - Fayetteville Motorsports Park, NC
2008 MGM G8 GT | 20" Forgestar CF5's | 20x9 et.38F/20x10 et.45R | NT555 265/35/20F | NT05 305/30/20R | SOLO Mach Balanced | Kooks LT/SOLO HFC Connections
Rick Crawford Racing 6.6L stroker build | RCR Spec'd Lunati Cam @223/232 .615/.598 | RCR Heads TB/Intake/Tune | VCM Intake | Camaro 3.45's | LS7 MAF | Coan 3200
Administrator
Join Date: Aug 2008
Location: Buffalo, NY
Posts: 10,240
If you're wondering the difference... this thread may help you decide!
Mach vs Mach Shorty
Axlebacks are not really able to do this "choice" because they're just axlebacks with a common stock or xpipe "between cats and axlebacks" section.
But if you're looking for a refined sound that was engineered by SOLO from the cats back, and you have slightly more budget to consider, depending on your future mod plans.... catback is where it is at!!
That linked thread above has more info if you are interested... I prefer the uneven lope (like my vid on my youtube channel) of the mach unbalanced.
---
2009.1 ZEPCOM MGM G8 GT
Kooks LT's, SOLO HFC & Mach Unbalanced with J-pipes, SLP Tips.
Livernois tune, VCM, FE3's, Blue gauges, iphone on display. Daily Driver FTW
The ZEPCOM G8 was SOLO's test mule
www.youtube.com/zepcom