09 G8 GXP-PBM-A6-Roof-for sale in Indiana
---
2009 Pontiac G8 GXP
Located in East Central Indiana (zip is 47374)
I love the car and don't HAVE to sell it...but I'm thinking about moving on to a 6th Gen Z06.
This GXP has
37k miles
and is still under GM's B2B warranty until 48k miles or sometime in the spring of 2013 (can't remember exact dates)
This warranty is also extendable as long as the owner extends it before it runs out.
I have never had the car tuned...but it shifts awfully well...so I'm not sure if it has or hasn't been tuned.
I bought the car at Columbia Chevrolet in Cincinnati Ohio and they told me that the warranty was good on the motor/tranny/rearend and the rest of the items that are normally covered under GM's B2B warranty...so I'm not real sure about whether it has been tuned or not.
Anyways...just being as honest as I can about the car...it runs perfect with no known mechanical issues whatsoever...no warnings or lights on the dash or anything like that.
I've got a brand new RotoFab CAI with AFE dry filter on the car right now and I also have the factory airbox with new filter as well.
I have a set of custom Flowmaster Axleback muffler's on it that I bought from Shane on here....and I've also got the original axle back muffler system for it too (I won't sell any of it yet..unless the new buyer doesn't buy it all together)
The car has a GMPerfParts Chrome fuel door on it (the ones that have "G8" engraved on them) but I also have bought an original fuel door in case the new buyer doesn't like that one. (new one is dark grey so it will need to be painted).
I also bought and installed one of the color matched (black & red) shifter handles from Crazy Paul. I still have the original shifter handle too.
Also included is a new..color matched VG SharkFin Antenna (isn't installed yet)
I have a new "natural" finish RotoFab metal Radiator Cover that can go with the car...along with a factory engine cover too. (I hadn't decided on my underhood color's yet so they haven't been painted).
The car has a set of Staggered Lorenzo 19" wheels with 255's on the front and 285's on the rear. (I think the wheels are 19" x 8.5"s and 19" x 9.5"s)
I don't have the factory wheels because the car came with the Lorenzo's on it.
The car's stats:
Panther Black Metallic exterior color
2-toned Onyx/Red Leather Interior
Factory Sunroof
A6 (6L80) Automatic Transmission
Car is
#236
out of the
1,829
built
81
cars were built with the same options as this car and it is
#9
out of the
81
.
SOLD/TRADED
Here's some cell phone Pics: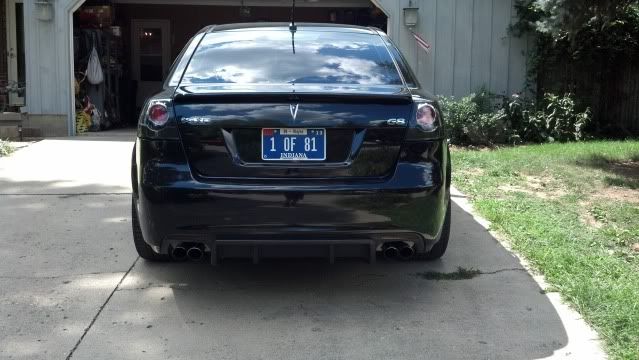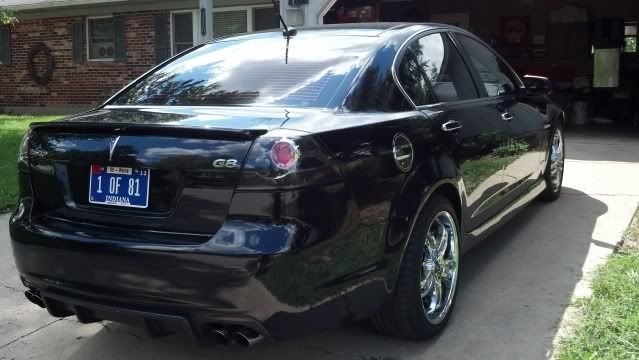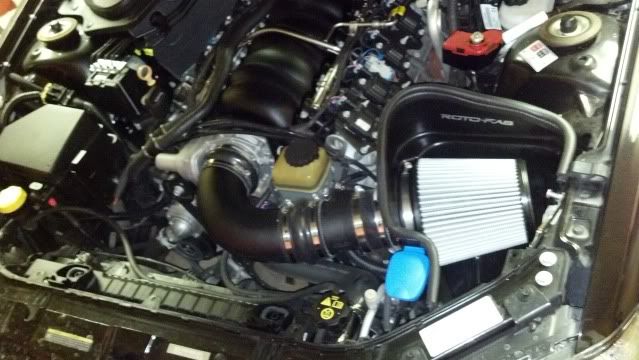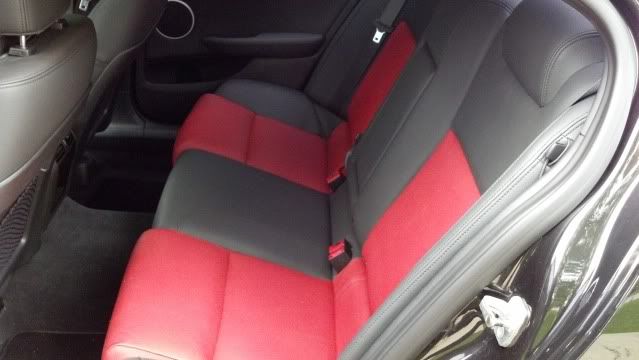 ---
2009 G8 GXP
...GONE
New Ride:
2010 2SS/RS-6spd Manual-11k miles
Stage II ProCharger-Intercooled-BOV-Brute Force HP Clutch Kit-Strange 1000HP Axles-4:11 Gears-Blower Cam-Snow Performance Meth Injection-LongTube Jetcoated Headers (no Cats)-Upgraded Fuel Pump/Injectors/rails-Fuel/Boost programmers-21" GM wheels/tires (will be gone soon for a MAXX CONCAVE Setup)
---
Last edited by BiGDaWgZ; 11-11-2012 at

01:10 AM

.
Approved.

Do you want me to close your WANTING TO TRADE FOR GEN 5 CAMARO thread?
---
Quote:
Approved.

Do you want me to close your WANTING TO TRADE FOR GEN 5 CAMARO thread?
yes please close that thread if you would.
thanks
---
2009 G8 GXP
...GONE
New Ride:
2010 2SS/RS-6spd Manual-11k miles
Stage II ProCharger-Intercooled-BOV-Brute Force HP Clutch Kit-Strange 1000HP Axles-4:11 Gears-Blower Cam-Snow Performance Meth Injection-LongTube Jetcoated Headers (no Cats)-Upgraded Fuel Pump/Injectors/rails-Fuel/Boost programmers-21" GM wheels/tires (will be gone soon for a MAXX CONCAVE Setup)
This car is GONE !

I traded it off today...on a 2010 Camaro that made 717RWHP !

If anyone is looking for a G8 GXP...near Central Indiana you can pm me and I'll let you know where I traded it in at.

It was a great car and if I had the room and could've afforded to get my 5th Gen Camaro and keep the GXP...I would've done it in a heartbeat !

It will make a very nice car for someone...I just didn't really need the room of the 4 door.

Thanks
Aron
---
2009 G8 GXP
...GONE
New Ride:
2010 2SS/RS-6spd Manual-11k miles
Stage II ProCharger-Intercooled-BOV-Brute Force HP Clutch Kit-Strange 1000HP Axles-4:11 Gears-Blower Cam-Snow Performance Meth Injection-LongTube Jetcoated Headers (no Cats)-Upgraded Fuel Pump/Injectors/rails-Fuel/Boost programmers-21" GM wheels/tires (will be gone soon for a MAXX CONCAVE Setup)
Posting Rules

You may not post new threads

You may not post replies

You may not post attachments

You may not edit your posts

---

HTML code is Off

---