Battery upgrade - Duralast vs Die hard vs Interstate
---
Hello
Can you guys let me know which aftermarket battery fits our car . Since I upgraded the stereo , I would like to make sure the battery is good. I came across 2 brands
1. Sears - Die hard platinum - what model fits our g8 ? Are these same as Odysseys ?
2. Duralast platinum -
link -http://www.autozone.com/autozone/parts/2009-Pontiac-G8/Battery/_/N-jt85pZacy27
Part Number:
H7-AGM
3. Interstate -Megatron plus-
Any advice would be appreciated.
Thanks
Patrick
Senior Member
Join Date: Mar 2013
Location: Lewisville,Tx
Posts: 188
i changed my battery a few months back to duralast gold and added A IDMAX 12" ported running of a rockford BD1000.1 (until real install starts) placed the car in engineering mode to watched the voltage and it's holding between 14.8 and 14.5 on big notes. also, the duralast Warranty consists of 3 years free replacement plus 2 years prorated.
---
SHOW
: Tint,VG Shark Fin Antenna
,
20" RODERICK™- RW3 Black with Brushed Face,BC Racing Coilovers, GXP diffuser
SOUND: "One Seat" SQ Set-up for MECA & Usaci organizations:
Alpine DVA-9861, H701/w controller, Zapco C2K 9.0 & 4.0, ScanSpeak Illuminator D3004,Polk SR6500 midwoofers, TC sound OEM 10's
GO
:
MORE GO coming soon!!!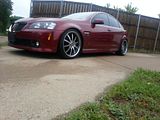 Any reason you don't want to run an optima? I've had great success with mine, but then again I don't have any major audio upgrades. Have been running an optima in my trans am for 6 years and still puts in work lol. They are pricey as well. I have duralast gold in everything else and for the money you can't beat the warranty.
---
2009 G8 GT PBM...... Not Stock
Is the battery not starting the car? I have the factory battery still in my car and two 900 watt RMS amps. 0 issues so far. Why spend money on a new battery if you don't need it? Any 94R battery should do the job.
---
#810 of 1829
Everstart from Walmart.
---