Junior Member
Join Date: Dec 2009
Posts: 31
Stainless Steel Works cat back HELP
---
Does anyone have experience with Stainless Steel Works exhaust? I have not heard one yet but it looks like a good alternative to the overpriced Corsa $1600 is a big chunk of cash for Corsa.
I am wondering if the 3" SSW exhaust might be overkill for a stock motor with just a Varraram and a Cortex 93 octane tune. Please don't respond with Solo I heard one and didn't really care for the sound, Borla sounded nice a little quiet and owner said it drones a lot. I am wondering if the SSW drones also.
I would greatly appreciate any help with this. I am located in Canton, Ohio if anyone nearby might have this exhaust I would love to hear it.
I have the full SW including headers. If you want to drive 45 minutes you're more than welcome to hear it, although I have some other work so it will sound a bit different. They make a very nice product and have used them numerous times. They even used my G8 to design our systems.

You'll get different opinions on whether or not the 3" is overkill. For your mods I think it is but I don't think its something you'll even notice. I believe I picked up 6rwhp when putting a crimp in where my cats used to be.

As far as drone, its pretty damn loud with the headers. I have Corsa on a couple of my other cars and they are good as well. Those cars are relatively quiet until you stomp on it then it gets just as loud. I'm sure you could work a deal out with SW since you are somewhat local to get them to do the install for free.
---
09 LR Gt- Vector Stage II with larger cam, Yank 3200, Vararam, tranny cooler, HSRK, Stainless Works 1 7/8 LT's, offroad x-pipe, and SW catback, dual gauge pod, AeroForce gauges.
447rwhp / 411rwtq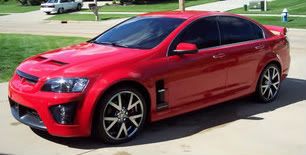 Big thanks to Crazy Paul for all his help.
99 Viper GTS - 1 of 22
15 Bmw 335i M-Sport Xdrive
08 Charger Srt-8 Superbee
13 ZL1 Vert'
76 Corvette L82 Stingray
06 Jeep Srt-8
08 Altima coupe
I have the full set up long tubes, no cats, 3" exhaust, on my G8. Is the 3" Overkill yea probably but I was told it would give a deeper tone. To me the exhaust is on the quiet side. When first started it has a nice rumble, the exhaust has a nice tone without being very loud, I am very pleased with the exhaust
My 2009 Pontiac G8 GT
---
2009 G8 GT Liquid Red, red/onyx interior, VCM cold air intake, PCM of NC tune, shark fin antenna, 2016 20" Camaro SS wheels powder coated black, Chevy SS Brembo brakes, Russell stainless steel brake lines, stainless works 1 7/8" long tube headers, stainless works 3" cat back, Camaro 3.27 LSD rear diff, ADD W-1 oil catch can, B&M trans cooler, auto dim interior rear view mirror
Senior Member
Join Date: Aug 2015
Posts: 129
I too would like to know more. Specifically about the drone... while i agree Corsa has a hefty price tag.. their drone free is mighty nice. Those are the 2 exhausts i have been eyeing.
I ordered the SW exhaust system for my G8. 1 7/8" headers with cats. I decided to go with SW based on sal329's videos, personal feedback, as well as SW's research and development article about engineering the exhaust specifically for our cars. One of their goals was no drone, and I was sold. I asked SW about it by phone as well.

It's the only exhaust that has an x-pipe and a mid muffler with axle backs.
---
2008 Pontiac G8 GT | PBM | Premium Package
BMR suspension | GForce Engineering 750hp axles | GM Camaro 3.27 rear diff., Camaro trans pan + G8 GXP trans cooler | Livernois L92 Stage 1 Cam | Manton LS trunnion kit | Pedders bushings | PRC LS3 260cc heads | RCR intake + throttle body | Rotofab 102mm CAI | Stainless Works 1 7/8" headers | SuperPro front control arms + motor mounts | Texas Speed LS3 short block | Tuned by Patrick G. | Wrenched by ESP
Junior Member
Join Date: Dec 2009
Posts: 31
Thanks all for the info. I believe this will be the exhaust for me too. I will try to talk to them about install. Maybe I will get headers later. I agree listening to exhaust on a car with headers won't tell me much but I appreciate the offer.
Site Sponsor
Join Date: Apr 2018
Location: ST. CHARLES, IL
Posts: 400
We have the full 3" Stainless Works exhaust and headers on our shop SS. It's a great system with minimal drone and our car is pushing 600rwhp. It's got a good deep tone that sound good from idle to the redline. With the stock manifolds and cats this system will probably be a bit tame though. We sell these systems on our site and we always have discounts for forum members. Use code HOLDEN and save big
---
We are your one stop shop for Holden Performance. We have the best deals on all the hottest parts such as Corsa, ARH, Kooks, SW, Roto-Fab Solo Performance and much more with installation and tuning available. When you're ready to order pm/call us for your G8Board discount. Our pricing and service is second to none.
224-63-JUICE (224-635-8423) OR

[email protected]