What track did you run those ET's?

If those times are uncorrected then you're certainly in the 12's corrected!
---
2002 Collector Edition Trans Am A4
2001 Tahoe 4wd
1979 10th Trans Am 4spd.
2011 Cadillac CTS-V A6
That was ar HRP

Those are uncorrected, corrected tells me I should have been 12.65
CTS-V Wheels
---
I am putting CTS-V wheels on tuesday, then some 2 piece front rotors and then some Tein Coilovers.


Hey Nino,

Where did you get your center caps for the CTS-V wheels, given that the opening is larger than that of the GXP wheels? I saw what MBuono did when he added the CTS-V's to his car on the other thread, but I was wondering if you did something diffferent.

Thanks!
I have not done anything yet.

I plan to have something custom done though. Not sure what yet.

Which rotors are you going with? PM me.
ADM GXP
Join Date: May 2008
Location: Cape Coral, FL
Posts: 52
Sorry to see this thread is now officially done.
Yeah, Ill be honest, when I heard the official "Pontiac is done news" is when I really lost interest.
Finally get a car over here that is every bit of awesome and they killed it.
I don't get it. Why would pontiacs fate affect your love of a very special car?

Did you buy a car, or a brand?
---
'09 SRM G8 GT: Cortex 91 octane tune, OBX axleback, Res and mid muff delete with X-pipe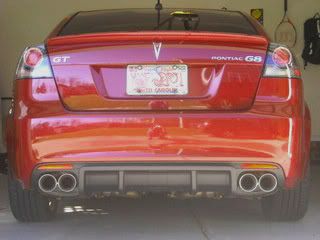 Alot of reasons...

The biggest one being I work for the brand and have to hear all the bad press and negative comments daily. Its heart wrenching.
Approved Dealer
Join Date: Dec 2007
Location: Dane, WI
Posts: 3,280
Nino, I don't envy you. It's hard enough for those of us who love the brand, to deal with all the negative crap over the past months. It would be even worse when you work at a Pontiac dealership. It would be very tough. I drive through my dealer's lot, and they have only 1 last new Pontiac in their inventory (and a dozen or so GMCs). Just seeing that makes me very sympathetic. I don't know how they are making ends meet, because they don't have a huge used inventory either. They have been great to me over the years, and I will REALLY hate to see them go. I'm glad that you guys will survive to sell another day. The best of luck to you, and have fun with whatever your new project is!
---
Joe Morgan, G8 GXP Registry Organizer, G.O.N.E. Organizer 2010-2013
2009.5 G8 GXP WH 6M onyx/red no roof 12.921 @ 108.89 BONE STOCK! (then), 12.344 @ 110.92 with 1.688 60' at 766' DA, PB with new cam & tune - 12.191 @ 112.35 with 1.693 60' at 1319', 2:59 lap time at Road America on RS-As, 143.1298 mph NoFlyZoneMidwest 2017 1/2 mile into 20 mph headwind. RACECAR NOW RETIRED. All of these are final PBs.
VCM OTR CAI, HSRK, Heater Hose Relocate, custom street/dyno tune by oldskoolgp, Comp Cams 224/228 .581"/.588" 112 LSA cam, LS7 lifters, PAC 1219x springs, Monster LT1S (C7 Corvette) Clutch kit, Katech C6 Hvy Dty Master & Slave Cylinders, Camaro 1LE Diff with 3.91 gears, Kooks LTHs, Solo Hi-Flo Cats & Connector Pipes, Solo Mach Balanced Catback, BMR Toe Rods, Trailing Arms, Cradle & Diff Poly Bushings, 2017 Chevy SS front & rear Brembo calipers and rotors.
1 of only 10 built in this combo (1 of 4 this combo with RS-As)& #1497 built of the 1829
I aprreciate it.
Ultimately the major reason for the move was to get into a classic.
Something that will gain value instead of lose and something with a big block.
We'll see, whatever I get you guys will know.
Anymore updates nino?

If you had to recommend headers for ease of garage install and maximum performance, and long term quality control...which one without heat damage?

MR. B
---
The Office
Junior Member
Join Date: Sep 2009
Posts: 1
Quote:
Anymore updates nino?

If you had to recommend headers for ease of garage install and maximum performance, and long term quality control...which one without heat damage?

MR. B
I am glad to find your site - now I know what a good one looks like.
Very good topic to share with us. Great info.
Posting Rules

You may not post new threads

You may post replies

You may not post attachments

You may not edit your posts

---

HTML code is Off

---