Junior Member
Join Date: Mar 2009
Posts: 5
Pictures of my Stryker Blue G8 with my 2002 Corvette
---
I thought some of you might want to see these pics. I bought my 2009.5 Styker Blue G8 GT a couple weeks ago. I finally got a chance to take some pics of it alongside my 2002 Electron Blue Corvette Coupe.
You can see all the pictures here:
http://www.andycallahan.com/gallery/...p?g2_itemId=16
Junior Member
Join Date: Mar 2009
Posts: 5
Stunning color(s). I think I'll get one, too.

Cheers and congrats!
Senior Member
Join Date: Aug 2008
Location: Buffalo, NY
Posts: 10,244
agreed -- beautiful shots! Both cars are wonderful...

My dad has a 99 C5 but his is Red and my G8 is MGM. Never-the-less, you gave me some good motivation to get them together and take some pics!

--zepcom
---
2009.1 ZEPCOM MGM G8 GT
Kooks LT's, SOLO HFC & Mach Unbalanced with J-pipes, SLP Tips.
Livernois tune, VCM, FE3's, full Holden blue gauges conversion, iphone on display. Daily Driver FTW
The ZEPCOM G8 was SOLO's test mule
www.youtube.com/zepcom
Bought 3/30/2009, retired 7/18/2017 at 136k miles, still strong. Been a great ride, she will be missed!
Let me guess, you like blue.... Awesome pictures. I can't decide if I like the stryker blue or liquid red.
---
2009 LR Pontiac G8 GT
Premium PKG/Sunroof

Mods:
Performance: SuperChips Custom Tune, GXP Exhaust
Appearence: DDM HID 35W 5000K, GXPDifuser, 20% Tint
Coming Soon: Rotofab CAI
Senior Member
Join Date: Nov 2008
Location: Central Jersey
Posts: 300
I'd like to have that combo as well. I was also talking to my wife saying that the g8 and the new camaro ss convertible would make for a nice combo. I'm partly there. I just need a vette/camaro and a garage.
Damn condo living! Can't wait to get a house! My wife always wanted a vette but now she drools over the aston martin's. I guess my expensive tastes are rubbing off on her, as well as, where I bought my g8 they also sell lamborghini, aston martin, maserati, rolls royce, bentley, etc... Let me tell you that waiting for them to get my car from another dealer wasn't a problem for my wife and I. It was our first time seeing a lot of these cars in person. There was a lot of drooling going on.
---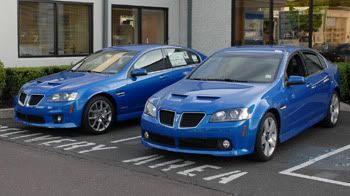 Mods:
Raptor 35w 4500k HID Kit
Drivers Fuse Block
Awesome.


Awesome.



Awesome.


Thanks for posting these great pics!
What are the differences in performance between the both you noticed the most?

BTW...that looks sweeeeeet! Good luck!
---
2009 Pontiac G8 GT
Panther Black w/Onyx
Premium, Sport & Sunroof
Beautiful cars bud! You can really see the reason behind the Corvette's awesome mpg highway numbers! Just look at that profile!
---
RIP PONTIAC G8
We were part of the 1st National G8 Meet! (G16)
2008 Pontiac G8 GT (Superchips Cortex, K&N drop-in filter, Corsa catback exhaust)
"In terms of the emotion of it I guess it would be pretty hard to deny the fact that we're disappointed. The G8 program was a ripper. It was a great car, it was exceptionally well received and it got some fantastic reviews in the States." Mr Whiffin
Junior Member
Join Date: Mar 2009
Posts: 5
Thanks for all the compliments!
Quote:
What are the differences in performance between the both you noticed the most?

BTW...that looks sweeeeeet! Good luck!
The thing you notice most is that these cars are built for two very different reasons. The Corvette is pure performance. It's lighter, nimbler, quicker, and overall a more spirited car to drive. The G8 is a polished performance cruiser. It rides so well and is so quiet at speed, yet it takes the corners incredibly well and is no slouch on acceleration.
At this stage in my life (30), I would choose the G8 over the C5 if I had to pick one. I do love driving the Corvette at times, but I honestly haven't driven it since I bought the G8. I'm sure that will change this summer, but for now I am content to tool around in the G8.
2 very nice cars. You are lucky to own both of those great machines. I plan on getting a G8 one of these days but just cant part with the vettte just yet
.
---
2004 Corvette Z06 Commemorative Edition #955 of 2025- LG Street Series Catless Headers/ Halltech Stinger Intake/ LG Motorsports Tune.