98 Views Short of 100,000 Views! Holden Commodore Content!
---
Just noticed that I am just short of 100,000 views on Youtube. Maybe there are some new members who aren't familiar with this:
---
1974 Ford Bronco
Owner:
Seattle SEO Pros
two lane black top
Join Date: Oct 2012
Location: texas
Posts: 1,549
Awesome video work! And flawless car.

- Chris C.
---
2009 G8 GT

GO - RCR IM - RotoFab CAI - OBX LTH/Midpipe - Custom 304SS Axleback - LS7 MAF - Pat G. Tune

TURN - FE3 Shocks/Struts - Tein Springs - Whiteline Bushings/Bearings - Moog/BMR Endlinks - BMR Sway Bars - BMR SFCs - BMR Trailing Arms

STOP - CTSV Brembo 6 Piston/4 Piston Calipers & CTSV F/SS R Rotors - Stainless Lines

SHOW - GXP Bumper/Diffuser - TRS LEDs - CF Wrapped Roof - Adventus AVS3 20x9" +25 20x10.5" +43 on 255/35 & 295/30 Michelin PSS

378/385 on Mustang Dyno
Newbie here just added another look to your site, great job !!!
Member
Join Date: Sep 2014
Posts: 68
What suspension setup do you have on there? Added another view, car looks amazing!!
Just looked again for 2nd time . I can't believe u don't miss your car coach, she is a wonder
Tony I think I've seen your vid about 500 times (my wife thinks I'm nuts)... Thanks for inspiring those that came after...

Cheers,
Gary
---
HSVGaugesWheelWing/Tein/Solos/XPiped/Overkilled/AussieFWI/DiodeDynamics/Brembos/NHaasBatwingSplitter/SSRims/HoldenBadged/OnBoardTelematics/DashCam/BackupCamWithVIM & more.
Selected as 1 of top 20 at G8 Extravaganza 2017, Valdosta, GA.
Yes, I Am The Badge Man.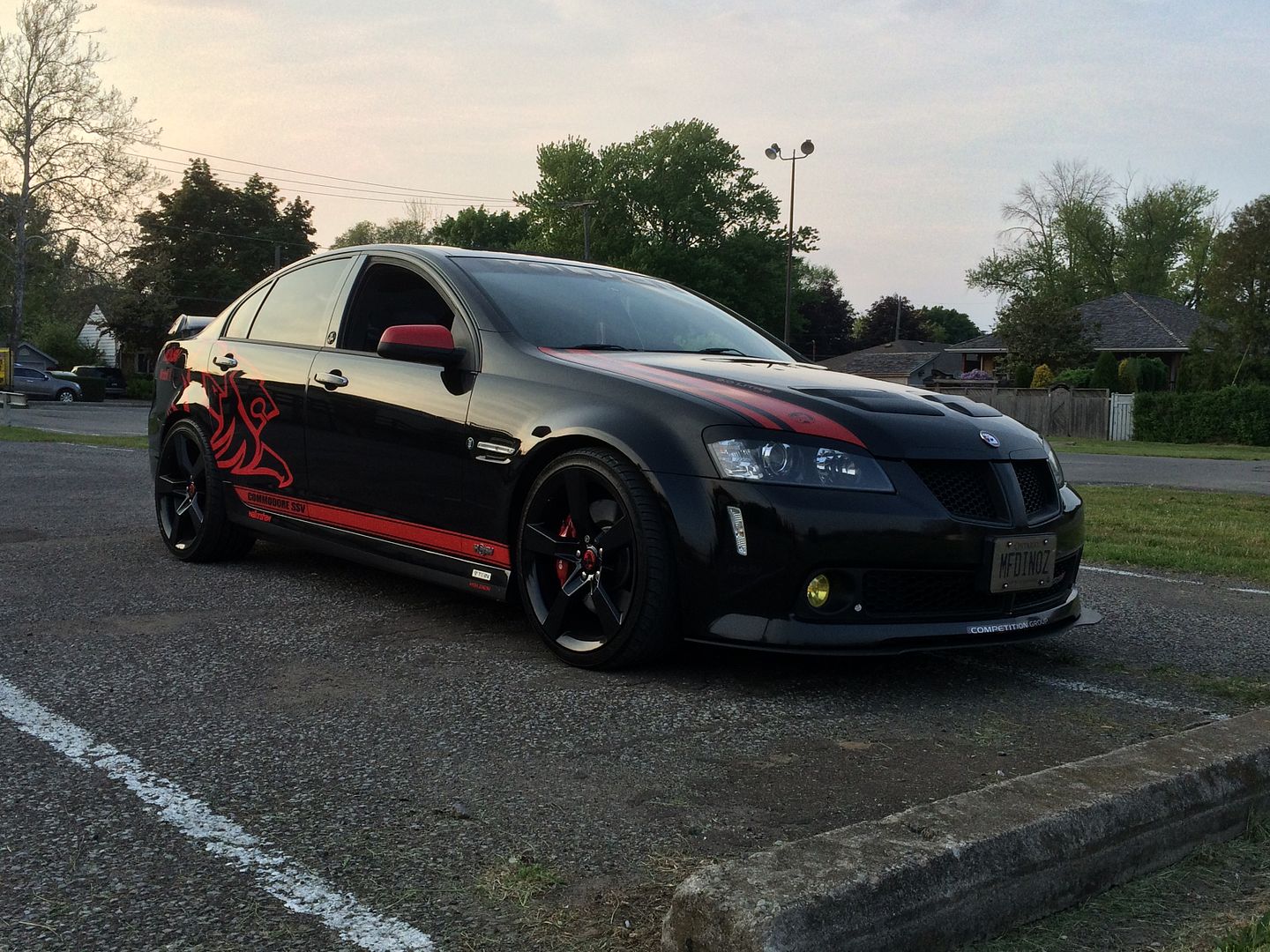 Looks great man. Who made you Holden wheen caps?
---
2009 PBM GT - Onyx/Sport/Premium/Roof
RCR spec'd cam/DoD delete/Henderson tune
American Racing Headers 1 7/8, Complete 3" pipes, Solo AB's w/ 3.5" tips
Roto-Fab CAI w AFE Dry Filter
Eibach Pro Kit: Lowering Springs 1" with FE3's
Shark Fin, Rear Holden Badge, Blacked Out, 5% Tint
GXP Front Bumper and Rear Diffuser/VE SS/SS-V spoiler
Black trim
Wheels: Avant Garde M310, Matte Black, 19x8.5/9.5
(Bought from Agose25)

I have watched this so many times, yet never get sick of it. Incredible car and video.
---
2009 Liquid Red G8 GT Sold!!!

Current: 2013 Camaro ZL1
Member
Join Date: Apr 2008
Location: Spotsylvania, VA
Posts: 43
just added another view. Incredible car! Lots of $$ poured into that. Jelly!
Administrator
Join Date: Aug 2008
Location: Buffalo, NY
Posts: 10,244
That is a great video of a great car. Too bad you were forced to sell it just after making it nearly perfect. Ah well...

I love the music and the transition effects, they're really well done.

One of my favorite videos, Tony.
---
2009.1 ZEPCOM MGM G8 GT
Kooks LT's, SOLO HFC & Mach Unbalanced with J-pipes, SLP Tips.
Livernois tune, VCM, FE3's, full Holden blue gauges conversion, iphone on display. Daily Driver FTW
The ZEPCOM G8 was SOLO's test mule
www.youtube.com/zepcom
Bought 3/30/2009, retired 7/18/2017 at 136k miles, still strong. Been a great ride, she will be missed!