Finally took a few pics with wheels, Pedders, HID's
---
I washed it and had a few minutes to take a few pics today and again tonight in New Orleans. I could have had better light and I'm trying to find a better place to get the skyline in the background.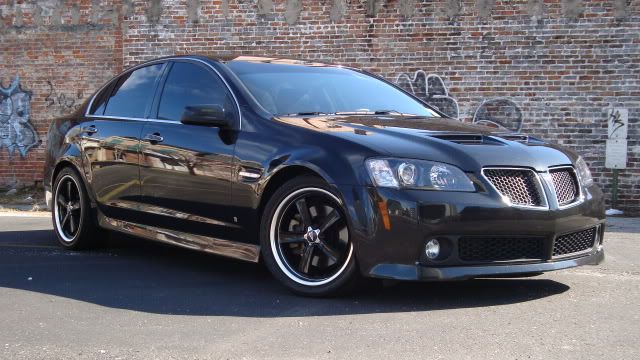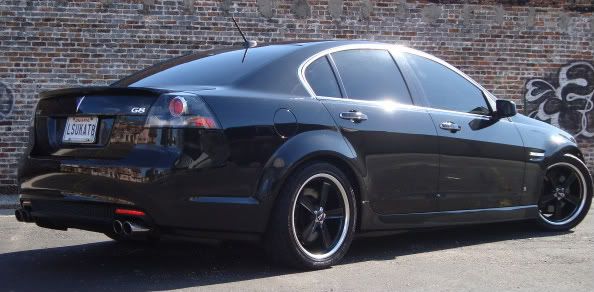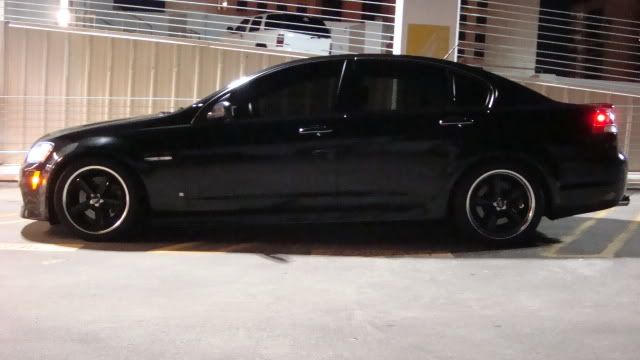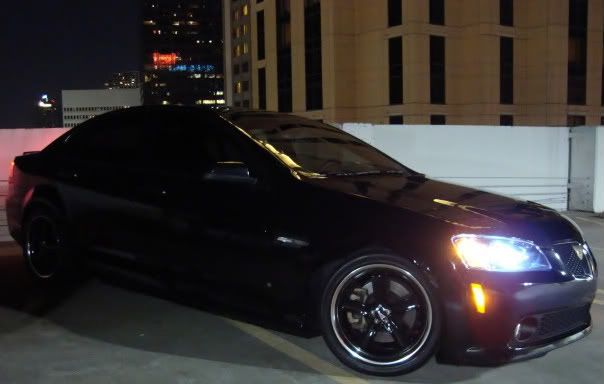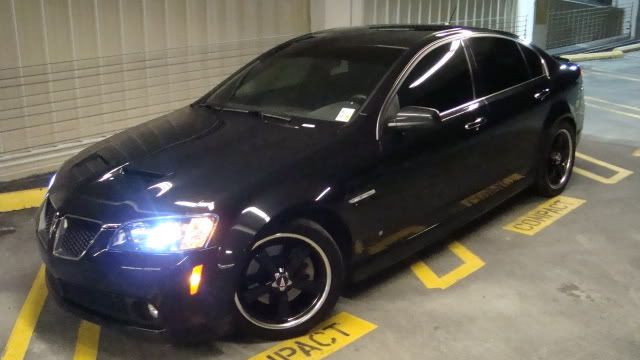 ---
35th Anniversary Edition Camaro SS garage queen
G8 SOLD to AlbertGT
https://www.g8board.com/forums/showth...=1#post1501177

---
Last edited by brad02ss; 01-07-2010 at

10:10 PM

.
Senior Member
Join Date: May 2009
Location: Olyphant, PA
Posts: 1,336
looks nice!! love the darker shots
Very nice. Like the stance and the HIDs.
---
2009 GT, Kooks 1-7/8 Mids, RPM Tune, Borla, Vararam, HSRK, P&P TB, UPR CCan, Mobil 1, Speedhut Gauges, FE3, Whiteline, Pedders, Summer MRR on 255/295, Winter Beyern on 245, CTS-V Fr Brembos, SS Rotors, Akebono Pads, Rolled/Pulled Fndrs, BMR Sways, Spohn Links & Arms, Sprt Pedals, Pont Shifter, Camaro Trans Pan, Pont Mats, Glove Box Light, MSM Lower Grills, CF Tail, GXP Diff, VG Fin, 20% Tint, 6000K HIDs, LED Fogs, GrafxWerks, Black Trim/Mirrors/Grills, Diffusr Lens/Amber Lens/Lowr Tails Tint
[SIGPIC][/SIGPIC]
Senior Member
Join Date: Jul 2009
Location: Oviedo (near UCF)
Posts: 2,038
Very nice!
---

2009.5 LR G8 GT
SHOW: spt/prem, V8 badges, Wheelskins, custom console lid, VG sharkfin, 20% tint, custom embroidery, GXP wheels.
GO: Roto-fab, Kooks LTs & H/F cats, Corsa, VMS.
371 rwhp 378 rwtq (dynojet)
Best 60ft. time: 2.01
Best 1/4 mile: 12.979 @ 108.79mph


Oh man, absolutely amazing. Just how I like it.

9.5\10, Rims aren't perfect for me and are about an inch or two too small, and the tint could be a bit more potent (I like 5-10%).
Thanks for the comments.
I would have liked to stay with 19's for the wheels but these were cheap and nobody makes a good autocross/street tire in a 19. Maybe I'll get another set one of these days.
Tint is 20% and I've gotten one ticket for it so far, not going darker.
I would like to go lower too but I'm already bottoming out on the New Orleans streets.
Working on some LED's next.
---
35th Anniversary Edition Camaro SS garage queen
G8 SOLD to AlbertGT
https://www.g8board.com/forums/showth...=1#post1501177

Looks good, what do you have the suspension set at?
Car looks great !!! I wish those Gunners came in 20's.
---
Sold-2009 MSM G8 GT, Premium and Sport Packages, 20% tint, 35w 6k HID's, Roto-Fab CAI, Roto-Fab Rad cover, Roto-Fab Engine covers, SC Cortex 93 Roto-Fab Tune, MF X-pipe, GXP axlebacks, King springs, MonroeGT sport struts & shocks, Holden V8 badges, GXP diffuser, Yellow foglight overlays, Red calipers, Painted lower grills, Stock 19's PlastiDipped with Holden Centercaps and Grafxwerks
[SIGPIC][/SIGPIC] Coming soon: Jeep WK2 5.7 Hemi or Dodge Durango 5.7 Hemi
Official Glass Tech
Join Date: Mar 2008
Location: Raceland, La
Posts: 641
i like it all but the rims... on a g8 20s is a must...
---
FS:
18x8 5x114 Enkei wheels, and SHOEI X-ELEVEN (L) Helmet