Senior Member
Join Date: May 2008
Posts: 139
Senior Member
Join Date: Nov 2008
Location: Nassau County, Long Island
Posts: 107
Wow, thats an attention grabber! The front end on that G8 is really starting to grow on me.
Ooooo.... HSV front end, I'm liking it!
---
2018 Red Quartz Tintcoat GMC Sierra 1500 Denali Ultimate
2016 Jungle Green Metallic Chevy SS - Sunroof/Spare/Stick *Traded 2/3/18*
2011 Radiant Silver Metallic CTS-V Wagon - Corsa Axleback, AirAid Intake *Sold 7/7/16*
2008 Panther Black Metallic G8 GT *Sold 6/11/14*
Do you have trouble spotting the Viper in a group of cars?
Very Nice!
---
IOM, 20% Tint, 19" Zinik Z27 Sofins, American Racing Headers, VARARAM OTR Intake, Powerbond Underdrive Pulley, 160 Deg. Thermostat and a Custom Livernois Motorsports HP Tune ,Mobile 1 M1113 Oil Filter, Royal Purple 5W-30, NEP 228/240 Cam, BMR Trailing Arms. 426 HP and 390 Torque, 1/4 Mile 12.0910 @116.53 MPH Soon: Ported LMS Stage II Heads and Ported Intake, Magnacharger
Senior Member
Join Date: Feb 2007
Location: Long Island, NY
Posts: 238
Damn, how much was that front end?
Senior Member
Join Date: May 2008
Posts: 139
yes mine was the first cost was around 6k shipped
Sweet! How did you do at Pinks?
Also is that PTAPs in Columbus, Ga?
---
OLD CAR: 2006 GTO 402ci LS2/L92 Heads, Stage 3 4L65e, 3400 Fuddle Stall, Nitto DRs, Drag Bags. Vengeance racing built. Best 1/4 mile et was 11.4 @125mph.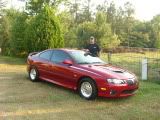 NEW CAR:
G8 GT PB
A6 bonestock 87 octane 13.8 @100mph

---
Last edited by WHSTLR; 11-30-2008 at

02:07 PM

.
Senior Member
Join Date: May 2008
Posts: 139
11.90 yes that is ptap columbus ga
Junior Member
Join Date: Nov 2008
Posts: 17
You cant fly under the radar in that Viper.
---
08 Magnetic Grey GT G8 #620- Single 4" SLP tips
96 Black TA A4-Black ZR1's 9.5/11-Sportlines-Jegs PHB-LPE CAI Flowmaster w/ Corsa clones
Quote:
You cant fly under the radar in any Viper.
Fixed it for you.