Senior Member
Join Date: Dec 2011
Location: Center Township (Pittsburgh), PA
Posts: 179
GM Certified Pre Owned questions
---
Just picked up a 2009 G8 GT with 8307 miles from a dealer. The car is a CPO vehicle.

Had some questions for anyone familiar with the process.

Looking at the checklist I can't figure out if an Oil Change is automatically supposed to be done on any vehicle getting certified? I called the service desk and they have no record of any oil change being done on this vehicle.

Another question is on the checklist there is a check for removing all foreign odors.... The car smells like a damn motel 6 from the previous owner smoking in it and it was not removed via an Ozone generator or other methods before sale.

My question is, should I be talking with a service manager about the above or just let it go and take care of it on my own.
---
2008 Velocity Yellow C6
[email protected]
- Headers only.
As you can see, oil changes are suppose to be done. #101 on the list.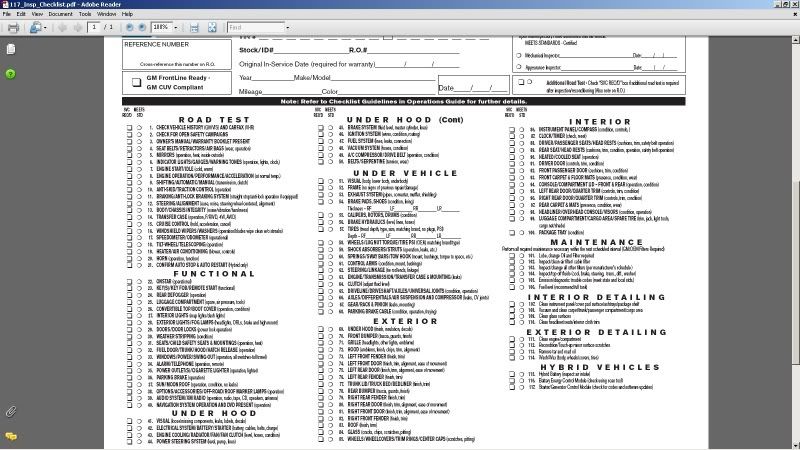 ---
2010 Steel Gray MB E63 AMG
Senior Member
Join Date: Dec 2011
Location: Center Township (Pittsburgh), PA
Posts: 179
Thanks.

I don't want their dino oil in the car so I plan on changing it my self anyway, just concerned that these 2 things weren't done on the checklist... wondering what else was not done/checked before they threw the certified tag on it.

The car was not traded in until after the Airbag recall was issued and it was not done in the time they had it... figured that would be something they would have done at the very least.

It also has the harmonic hum/vibration at highway speed that there is a TSB on... If they would have driven the car at those speeds during their certification it would have been quite noticeable.

Will have to speak with the service manager.
---
2008 Velocity Yellow C6
[email protected]
- Headers only.
I would speak with him/her. Especially if a open recall was not performed. Ask to see a copy of the check list. If your still not happy, ask them to do a quick walk around of the car and use the checklist. Mine was also a CPO.
---
2010 Steel Gray MB E63 AMG
When we bought ours, not only did they do an oil change when they got the vehicle they did another one while we were signing the papers to buy it just for added peace of mind. We also had a list of what was done to the vehicle, new filters, two tires and alignment which they didn't didn't the control arm bolts but re-tightened them. I had to have it re-aligned so I had a lifetime done to it at my job.
---
2008 Liquid Red V6: K&N Air Filter, Commodore Tail Lamps, GM 410mm Antenna Mast, Coil Spring Rubbers for rear suspension, Pontiac Mud Guards (Winter Only), COMMODORE Badge, GM Chiclet Debadge, UK Tax Disc, Bridgestone Potenza RE050A 96W tires, and an Interstate Battery.
Junior Member
Join Date: Nov 2011
Location: Atlanta, GA
Posts: 6
If you truely purchased a CPO vehicle you should have received an extra 12,000 mile or 12-month bumper to bumper warranty on top of any remaining original factory warranty. I would take the car back and get all of the issues rectified to yuor satisfaction. If the dealer you purchased it from doesn't satisfy you, take it to another GM dealership for any warranty items. Hind site is great but you should have addressed teh smell issue while you were looking at or negotiating the vehicle.
Posting Rules

You may not post new threads

You may post replies

You may not post attachments

You may not edit your posts

---

HTML code is Off

---