Senior Member
Join Date: Apr 2012
Posts: 307
09 white hot 26k miles FULLY loaded $24k should I buy?
---
been looking forever and am getting tired this is a good deal i think.

remote start/sunroof/prem wheels/leather etc.....

the color I want only 26k miles..

wont budge from $24k though...what do u all think?
Senior Member
Join Date: May 2009
Location: Cincinnati, OH
Posts: 1,149
Seems like a reasonable price if you like the car and it's in the shape that you want. Even if you feel like you're paying a couple extra grand for it, it would be worth it knowing that you got a good one especially if it's the color you want and has the options you want. These cars aren't just sitting around everywhere to be purchased.
Senior Member
Join Date: Apr 2012
Posts: 307
true...my other choice is someone on this forum....the lighter blue with 40k miles 2009 new tires all around for $21.5 k.....may jump on that one...havent decided/
Senior Member
Join Date: Feb 2012
Location: Pontiac, MI
Posts: 936
I paid 24k for mine from a board member with 34k on the clock. Pretty much the same car, but I don't have a roof. I might've overpaid a little, but it had brand new tires, the color was perfect, and haven't had a single issue with it.
---
2009.1 SBM G8 GT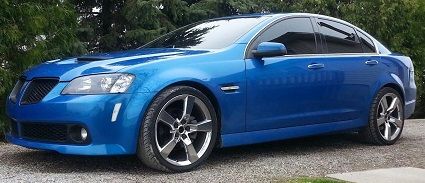 LSA SC 2.85, ZL1 lid, LS9 cam, OBX, Dual Squash 450s, FIC1000s, Flex fuel, HPT
10.8 @ 130
1/4 mile:
https://youtu.be/uVBMAh_ULTc
1/2 mile:
http://youtu.be/EudOyV9dSnU
I paid $24 for mine with 24K miles.
I say jump on it!


Sent from my Autoguide iPhone app
---
2014 SS
"Houston Stock"
Rotofab
RCR Intake/RCR TB
LS7 MAF
SW LTs-3" catted X
Corsa Mufflers
Pat G Tune
[email protected] (stock tires suck)
Senior Member
Join Date: Nov 2008
Location: Canton, MI
Posts: 468
Pretty crazy that back in 2009 the couldn't give these cars away. I remember the dealer on here from Houston was selling brand new 2009.5s by the truckload on this board, fully loaded (sports/premium/roof) in early 2009 for $26-$27k. Others including myself were getting fully executive demos with about 200 miles on the clock for $23-$24k. Now that it has been > 3 years and they still cost pretty much the same.
---
Current:
2016 GTI SE 6-speed
2013 Camaro SS 6-speed
2014 Mazda3 6-speed
2008 Tuono 1000R
Last 3:
2009 G8 GXP 6-speed - SOLD
2007 E90 335i 6-speed - SOLD
2008 G8 GT - PBM - SOLD
I paid $23,500 w/ 25k miles for mine back in April. Your's is a year newer and w/ a sunroof and White Hot's can look pretty sharp when the paint is nice w/ the right mods.
---
2008 LR GT

Pat G tune, LS7 MAF, RCR P/P/Milled LS3 Heads & valve job, ported AirRam Intake / TB & Little Lunati cam, Pypes LT's, Solo CB, Spectre CAI, Powerbond UDP

BMR rear cradle bushings, BMR F&R Swaybars, Teins & FE3's
Senior Member
Join Date: Apr 2012
Posts: 307
I bought it! Have had it for 2 days now...getting tinted tomorrow LOVE it! will make a new post with some pics!
Thread is worthless without pics.
---
MGMARHSOLOSQUASHNITTOPROCHARGERBLOWN BY JESSIKA
Posting Rules

You may not post new threads

You may post replies

You may not post attachments

You may not edit your posts

---

HTML code is Off

---