Senior Member
Join Date: Feb 2013
Location: Indiana
Posts: 131
Deal?
---
I have a local GXP I am thinking about buying. It is a WH Auto with a subroof. 34k miles. They want $29,000 for it. Is this good? What do you guys think is a good price for me to ask with out offending them?
Member
Join Date: May 2012
Location: Portage, IN
Posts: 59
That seems like a pretty decent price as long as it's in good shape. Is it a private party or dealer? If it's a dealer they will have negotiation room built into that and you could probably knock $1000 off that price if they want to move it.
---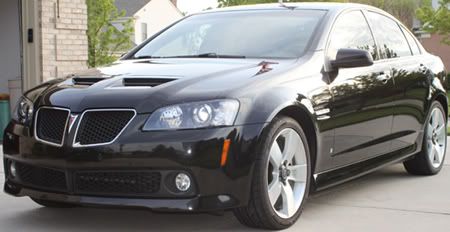 2009 Pontiac G8 GT
| RotoFab CAI, Superchips Cortex 93 Tune, Factory Bluetooth VCIM Added, GXP Rear Diffuser SOLD
Will be missed!
Senior Member
Join Date: Feb 2013
Location: Indiana
Posts: 131
thats "priced to move" you may work it a lil but really thats a fair price if its in good shape.
---
Ron
"As soon as you're born you start dying, so you might as well have a good time" ~ Cake
2009 G8 GT - LSA > TT
SOLD
March G8 Of the Month! Thanks so much guys
!
I think thats a little high, unless it is a TOTALLY mint, loaded manual car. If its an auto, I think 27k is about right. Good luck.
---
2009 PBM G8 GT. Premium package.
Posting Rules

You may not post new threads

You may post replies

You may not post attachments

You may not edit your posts

---

HTML code is Off

---