Solo axle back = Satisfied Customer with video.
---
Got my Solo Axle backs on and shot a short video today with the new video camera.
After listening and watching several times I thought it has to sound better outside than it was sounding... (on the ol' ipad).....So I plugged in the ear phones and you could really hear the deepness and the sound was wonderful. Think I still have some tweaking on the J's tho.
http://youtu.be/nzuVLMtSqCQ
Sent from my Autoguide iPad app
---
__________________________________________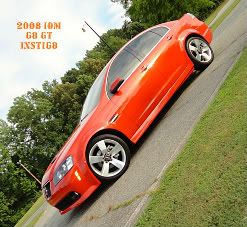 2008 IOM G8 GT with Premium and Sport Package with Sunroof.
Cortex Roto Fab 93 Octane Tune, Roto Fab CAI,
Roto Fab Radiator Cover, Partial Debadging, Tint 32% - (LEGAL)
GXP Rear Diffuser, Grafxwerks - Airbag Tint
Neondial Clear Markers
Solo axle-back.
06 GTO SRM w/ 18's - Sold