August 2012 G8 of the month winner, cobrakiller!
---
Congratulations to cobrakiller!
"First off would like to thank everyone for their vote!! This picture was taken on the way to an airstrip event which was a great time!! Most of you know my mods and you can also look at my sig!! Thanks again everyone, G8's rule!!!!"
---
Last edited by gearhead65; 08-05-2012 at

06:19 PM

.
Congratulations and very nice ride.
---
#NEVER GIVE UP
#AUDACITY OF HOPE
"Rather not run the risk of offending anyone, so let me just go ahead and offend someone". -PONY MAN
"When you write the story of your life, don't let anyone else hold the pen". -UNKNOWN
Thats my Dawg!
---
[SIGPIC][/SIGPIC]
www.facebook.com/rican219
G8board.com September 2010 and July 2012 G8 of the Month Contest Winner
2008 G8 GT
Vararam, 160 Therm, Kooks 1 7/8 Long Tubes, Solo Performance Mach Shorty Catless, Spartan Performance Custom Cam and Tune, 102 FAST LSXr Intake Mani, Nick Williams 102 TB, Circle D Stall, AI Ported Milled LS3 Heads w/Race Valves, Eibach Springs, KMC775 - 20x10 and 20x8.5, CTS-V Brake Conversion, G8 Murdered Out, Maverick Man Carbon Fiber Hood
A Spartan Performance Creation
Senior Member
Join Date: Jul 2008
Location: georgia
Posts: 1,357
Lol Rican!!! Thanks guys!! Video shoot soon to come!
---
Corsa catback
Vararam Intake
Kooks 1 3/4" headers
Ported throttle body
160 thermostat
Spartan Performance Cam
Powerbond underdrive pulley
Ported Heads & Valve job
3600 Yank
Vossens wheels
PCM forless trans cooler
6k led fogs
Hid headlights 8k/55 watt
Gxp front bumper
Gxp diffuser
102mm FAST Lsxr intake manifold
Dba brake kit
Spartan performance tune
Bmr sway bars
3.73 gear
Bc racing coilovers :
Pedders LCA
Electric Cut-Outs
Built trans
Member
Join Date: Aug 2012
Location: San Antonio, TX
Posts: 97
---
Congrats on a nice ride!
---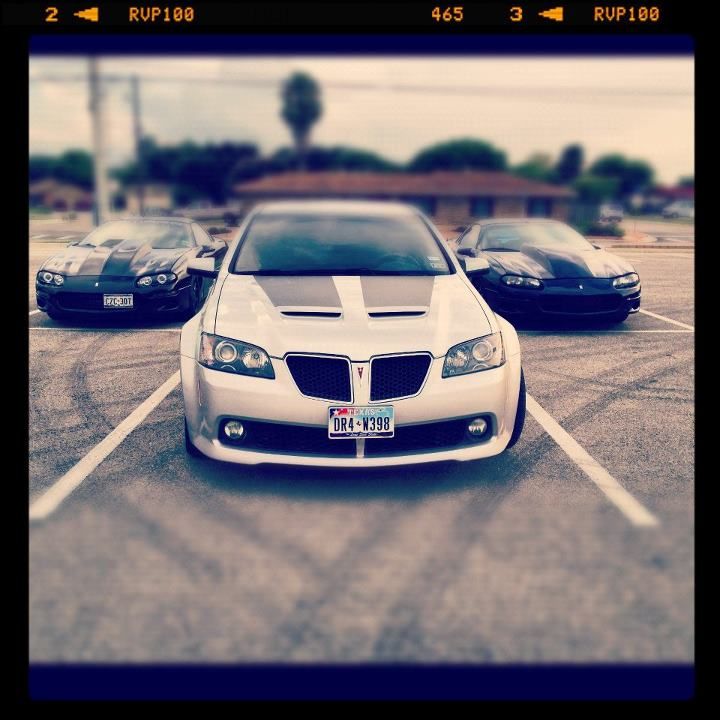 2009 MSM G8 GT
GO: Spectre CAI; X-Pipe
SHOW: 5000K HIDs; LED Fog lights; De-badged Pontiac, G8, GT, and GM; Black Vinyl Stripes (hood and trunk); Plastidip Grille and Hood Scoops; Gloss Black Beyern Rapp 18x9.5;
Member
Join Date: Jan 2012
Location: Terre Haute, IN
Posts: 86