Junior Member
Join Date: Sep 2014
Posts: 20
G8 to SS --> VCM OTR & Panels
---
Swapped my G8 VCM over to the SS, figured I'd post up what I found. On the G8, the intake rests atop the G8 radiator (which is flat with 2 posts). On the SS it mounts the same on the 2 posts, except on my '15, the radiator has 2 mounts for the AC condenser built into the plastic radiator crossover.
G8 Rad top (borrowed image)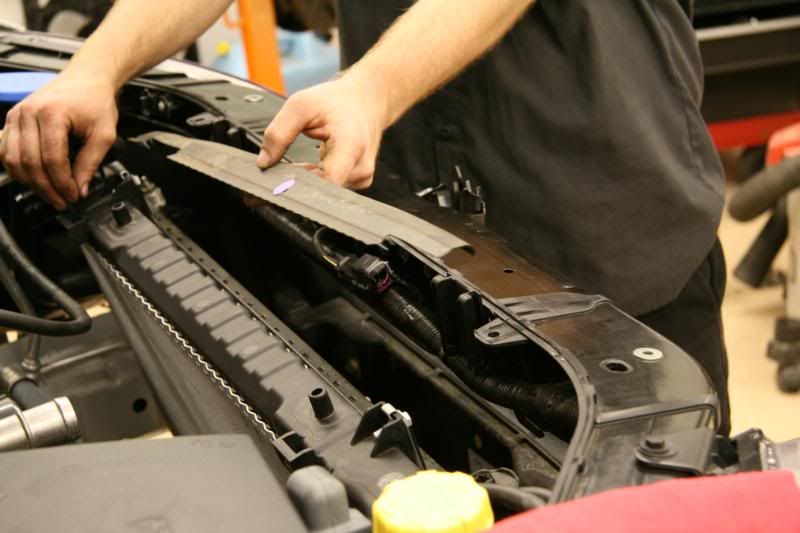 '15 SS radiator top
I opted to modify the intake vs. the radiator, though the radiator might actually be cheaper item to hack up
So I clearanced 2 areas to allow the VCM to sit correctly. Not ideal, but air is still forced to a central location. Open to any aerodynamic backround people opinions here though..
I contacted Improved Racing for their VCM SS intake and rdadiator brackets, $20. Given the way everything fit up on mine, radiator brackets weren't a far enough reach. The post holes really do a good job keeping the radiator planted, especially now with the mounts protruding through too. I will eventually make new brackets, but the IR ones weren't going to hold it any better than the way it sits now. The front intake mount brackets are key and well made too.
Junior Member
Join Date: Sep 2014
Posts: 20
I wouldn't buy theses panels to chop up, but since I had them I put them back to use. The side opening fender cover was a close fit, just took a slight notch at the rear of the headlight. The front right panel fits as/is, just needed a mount point at the tip. The left side needed a bit of cutting around the fuse box, and also needed an end mount. All in all, 30mins with cutoff or dremel and can put these back to use.
Left side
Bay before…
Bay after…
Senior Member
Join Date: Jan 2013
Location: Marlboro, MA
Posts: 253
thanks for sharing

personally i'm not a fan of the panels as it takes away from the nastiness of that intake
---
'09 G8 GT
(daily driver: VCM OTR, Kooks LT Headers & Cats)

'90 Turbo Mustang
(712rwhp 715rwtq)
Nice!
---
2009 G8 GXP, #715 0f 1829 (#18 of 23 as optioned), MSM, 6M, Sunroof, Onyx/Red
2009 G8 GXP, #807 of 1829 (#37 of 68 as optioned), MSM, 6A, Sunroof, Onyx
2016 Chevy SS, Mystic Green, roof, #555 of 2221
Forum junkie at the G8Board and "The G8 Forum That Shall Not Be Named"!
Senior Member
Join Date: Jul 2009
Location: Northeast
Posts: 1,998
very I really liked the fit/finish of my VCM. Hated to see it go when the lsa arrived.
---
9.5 RPM (Red Passion Metallic) Sport /Premium
ICOM 208H
"Experience is what you get when you didn't get what you wanted."- unknown
All it takes is a little imagination, some mechanical ability, and neighbors who mind their own business. -red green
[SIGPIC]
[/SIGPIC]
i'd sell my VCM before cutting into it. do the other VCM brackets prevent having to cut into the intake? I see VCM's on heartbeat supercharger setups and never see the intake cut up either.
---
2002 Camaro Z28 - far from stock
2009 G8 GT SRM #1 - Sold
2009 G8 GT SRM #2 - Sold
2015 Chevy SS PBM - the new new!!
Great info Thankx just got an SS... I have the new series 2 VCM ..it already has indentations for the VF Radiator supports ... should be a straight bolt on with out cutting the shroud... but the side panels will need to modified..Nice write up.
---
[SIGPIC][/SIGPIC]...Live Fast...It Won't Last....
---
Last edited by missan nissan; 03-09-2017 at

10:21 AM

. Reason: added content
Solid work, thanks for sharing. The OTR's look so much better without the ridiculous red coupler that some have.
---
2009 White Hot G8 GT, Premium, Sport, Roto-Fab, Cortex, Magnaflows, X-pipe, door dings, curb rash, backup cam
Having had the older style VCM ... I now see the difference with the series 2 recall intake system with the indentations made for the SS set up .. took about all of 20 mins to install plus the fabrication to the panel on the fuse box side.
---
[SIGPIC][/SIGPIC]...Live Fast...It Won't Last....