Sweepstakes LS3 TR-6060 T56 Magnum
---
Hey All, my V6 is over 120,000 miles. I've been considering making a GXP (or better) replica once I get over 200,000 miles. I was researching Crate and used engine/tranny options. So....I ran across this sweepstakes from the GXP transmission manufacturer. I signed up....I know it will decrease my chances of winning, but if I can't win....I'd like to see someone here win this for their G8.
http://www.tremec.com/sweepstakes.php
Senior Member
Join Date: Oct 2012
Location: High Point, NC
Posts: 133
Thanks for the heads up! Good luck!
Sorry, it looks like I am going to win this now!

Seriously, thanks for the tip.
---
[SIGPIC][/SIGPIC]
Tail of the Dragon-car's not lowered, just leanin'
Pat
ASE Certified Master Tech, over 40 years
2009 G8 GT
Currently 234,000 trouble-free miles
Pacific Slate Metallic ( who came up with that name?)
1 of 1063 GTs this color
Premium Package, Sunroof and All-Seasons, no Sport
ClearMask, BMR rear subrame mounts and Advanced 2-way Remote, self installed
KONI Sports and Raybestos Performance Ceramic pads
GXP Catalysts
Dead stock otherwise
Sarcasm Personified
Join Date: Aug 2008
Location: Cary, NC
Posts: 3,899
Thanks entered.... for a coyote.
---
2019 Volkswagen GTI Rabbit
2017 Jeep Grand Cherokee Altitude 4x4
Member
Join Date: Feb 2013
Location: Florida
Posts: 44
NP, hope someone here wins it. Found a complete dropout from a GXP Engine/Trans pedals the whole works on *bay. They want $10,000. It sure would make it easy, but I'm not ready yet. Hopefully they'll have the same thing for a little less in next two years. That is...If I don't win the new one.
Member
Join Date: May 2012
Location: Portage, IN
Posts: 59
Thanks for the heads up, I entered for the LS3.
---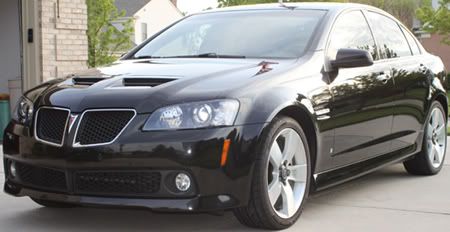 2009 Pontiac G8 GT
| RotoFab CAI, Superchips Cortex 93 Tune, Factory Bluetooth VCIM Added, GXP Rear Diffuser SOLD
Will be missed!
To date, I have had absolutely zero luck with sweepstakes of any form to date thus far and stop entering them quite sometime ago. However, it sure is one heck of a deal for the individual that wins.
---
#NEVER GIVE UP
#AUDACITY OF HOPE
"Rather not run the risk of offending anyone, so let me just go ahead and offend someone". -PONY MAN
"When you write the story of your life, don't let anyone else hold the pen". -UNKNOWN
Member
Join Date: Nov 2012
Location: Buffalo, NY
Posts: 50
What the hell, you have to be in it to win it!

Wonder what the installation cost would be as I am definitely a DIYer!
Not open to Canadians... boooooo!
---
[SIGPIC][/SIGPIC]

2009.1 GT
Liquid Red
Premium and Sport Pkgs. with sunroof
LS3 cam DOD delete
Roto-Fab CAI
GXP Axle-backs, Bumper & Diffuser
SOLO Cats; X-pipe mid-muffler delete
CTS-V2 Brakes, Hawk HPS pads, Russell Braided Steel Lines
Koni Yellows and Tein Greens
Holden badges
V6 Tails
VG Sharkfin Antenna
Factory bluetooth conversion
Trailblazer mirror upgrade
Bremmer Kraft BR05 rims 19x9 matte black w/ Michelin Pilot Super Sports 265/35/19 square
Custom Holden center caps

Pat G Tune 371 RWHP 360 RWTQ