Cruising OCMD Spring 2014
---
---
09 PBM G8 GT -
Built By Rick Crawford Racing
404 Stroker / Ported LSA Blower / Built Trans / Alky Methanol
RCR Heads & Cam / TPIS TB / ATI Balancer / Vaporworks & V Pump
Solo / CTS-V Brembos / BMR / VMR V701 / H&R Coilovers / Holden SSV Conversion
9.63 @ 143
09 WH GXP M6 (#1827 of 1829)
Roto-Fab / Solo Mach Shorty
16 SSB SS A6
VCM, KOOKS, 3" Solo, RCR MANI & TB, RCR Tune, King Springs, VMR
11.90 @ 119 - BOLT ONS
---
09 PBM G8 GT -
Built By Rick Crawford Racing
404 Stroker / Ported LSA Blower / Built Trans / Alky Methanol
RCR Heads & Cam / TPIS TB / ATI Balancer / Vaporworks & V Pump
Solo / CTS-V Brembos / BMR / VMR V701 / H&R Coilovers / Holden SSV Conversion
9.63 @ 143
09 WH GXP M6 (#1827 of 1829)
Roto-Fab / Solo Mach Shorty
16 SSB SS A6
VCM, KOOKS, 3" Solo, RCR MANI & TB, RCR Tune, King Springs, VMR
11.90 @ 119 - BOLT ONS
I'll be there and a couple of others from local board
---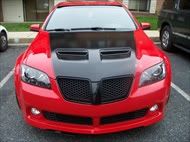 09 /20Tint/20x10xxr006rear/20x8.5frnt /245/35ZR/20/275/30/20 Nankang NS2/6000k 55watt DDM HIDconvers/Firehawk hood/Holden Blked out/Blk out side reflector/Blk Grille/Trim/NE OTR/Doug thorley LT'S/MBS 2.5 Midd Pipe/Magna 11386 midd muff/Solo Axel Backs/Plastic Dipp stock 19's/Nav-TV VIM/WD mini/Fenders cut /93 VMS ecm/tcm Tune
bump. Less than 2 weeks away.
---
09 PBM G8 GT -
Built By Rick Crawford Racing
404 Stroker / Ported LSA Blower / Built Trans / Alky Methanol
RCR Heads & Cam / TPIS TB / ATI Balancer / Vaporworks & V Pump
Solo / CTS-V Brembos / BMR / VMR V701 / H&R Coilovers / Holden SSV Conversion
9.63 @ 143
09 WH GXP M6 (#1827 of 1829)
Roto-Fab / Solo Mach Shorty
16 SSB SS A6
VCM, KOOKS, 3" Solo, RCR MANI & TB, RCR Tune, King Springs, VMR
11.90 @ 119 - BOLT ONS
Ocmd
---
I will be going down Thursday until sunday. Not sure if I'm taking the G8 or my TBSS.
---
2008 G8 GT, Panther Black Metallic, Sport & Premium Packages, #221 of 888, Superchips Cortex Tuned, GXP Front Bumper & Rear Diffuser, Pypes Tri-Y Headers, Borla Cat-back, 3.27 GXP Diff, FE3 Shocks/Struts, Whiteline Strut Mounts, Rotofab, 20% Tint
Any of you guys make it? I headed down on Saturday night and cruised from 10-2am. A lot of gridlock, but it opened up around midnight to have some fun
---
09.1 WH GT, 408ci H/C
09.5 SBM GT, full boltons by RPM (sold)
05 Suburban 2500 6.0L
06 SW TBSS LT, efans/intake/tune by RPM (sold)
06 RJ TBSS LT, efans/intake/tune by RPM (sold)
96 DCM Impala SS, basket case
96 BBB Impala SS, too much to list (sold after 17 years
)
71 CJ5 Jeep 225ci Buick
66 Astro Blue Skylark, stock appearing
Member
Join Date: Oct 2009
Posts: 79
If someone on here was the one with the red g8 with md plates, I have a video of our g8"s racing the cts-v down the strip!