Junior Member
Join Date: Jun 2012
Location: Albany, NY
Posts: 8
Redline Motorsports gone, now what?
---
I got my White Hot GT exactly a year ago Mother's Day. Time to start modding!
Traded in my white 04 GTO just a few months after finding out the wife was pregnant. Coupes aren't exactly family friendly but I couldn't downgrade from the Goat. The G8 is everything the GTO was and more. Couldn't be happier.
I had heard that the local (Albany) GM dealership sent all their ***** hot cars to a place called Redline Motorsports for modding/dyno tuning so I immediately went to look for it to see what my options were. Turns out they pulled anchor and moved to Florida for a year round business plan.
I swear I can go weeks or months without seeing another G8 on the road, makes me feel like a member of a truly exclusive team. Finally met another G8 owner at the airport almost weekly. Nice black beast of a car with headers and cam and huge list of mods I can't remember including a Redline Motorsports sticker on the side. He runs something like 12.3 at Lebanon dragway, very impressive when stock we run 13.9? Anyway it feels awkward starting up a convo with the guy even though he's been gracious so far. I need to expand my network of G8 owners in the area, if there are any. LOL
Anyway, it's time I stop trolling these boards and start participating. First mod down - RotoFab CAI (dry). Now what? And where should I go now that redline is gone? Twisted Synergy in Renselear?
Senior Member
Join Date: Aug 2011
Location: Latham, NY
Posts: 1,618
Quote:
I swear I can go weeks or months without seeing another G8 on the road,
OK, that makes 4 or so that I've actually seen around and 2 I've heard about. Unless you're the white one I saw at the Latham Farms Home Depot. You can count the G8s in the area on one hand! I've seen 2 gray, 1 orange, 1 white (maybe a couple more I've forgotten).
Sorry, can't help you find a speed shop around here. But there is a member out by Rochester (NYGXP) that is heavily modded and runs at the Glen. He posted about his shop setting up a custom diff cooler for him.
id say make the trip over to NEP (New Era Performance) in Rochester..that would be your best bet.
---
2009 SBM G8 GT (Winter Garage Queen/Summer DD) SOLD
Show- GXP front fascia& rear difuser, 50% tint, 10K 55W Front- VMR 19x8.5 in 245/40ZR19 BFG TWA, Rear- VMR 19x9.5 in 275/35ZR19 INVO
Go-Kooks LT 1 7/8"-No Cats-SOLO Mach Unbalanced exahust with J-Pipes + SLP Unique Tips, Livernois ECM/TCM tune, Rotofab CAI w/ HSRK, Billet SBM Oil Catch Can, NEP Ported Intake and TB
2008 MGM G8GT
- Stock (Totaled/Lesson learned)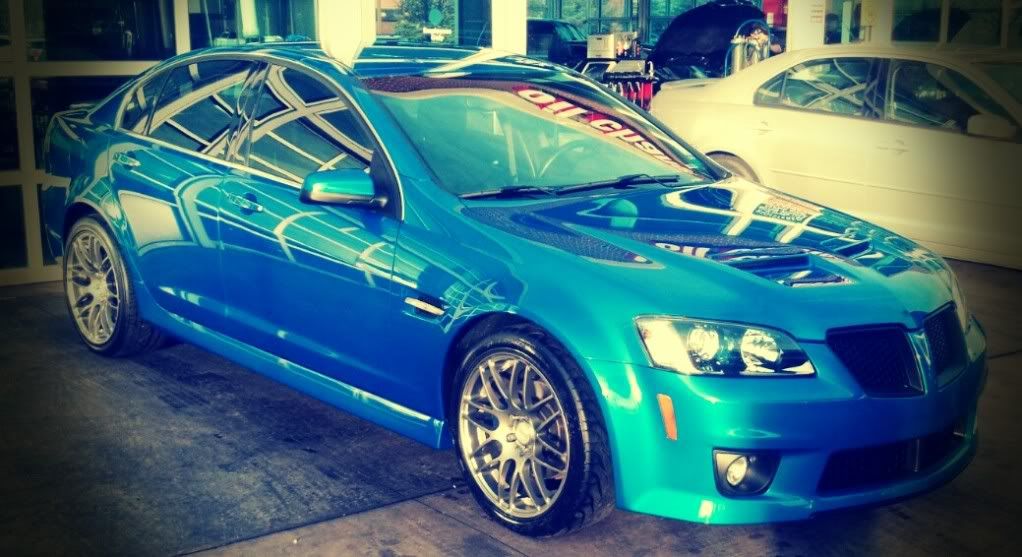 Junior Member
Join Date: Jun 2012
Location: Albany, NY
Posts: 8
Whoa. Rochester is almost four hours away. I may as well go to CT or Boston or NYC. I'm sure New Era is a reputable performance shop but I'm not getting away with that. My plan to get around the wife is to "break down" in front of Twisted Synergy which is like 10 minutes away and explain away a $3000 sick lope cam install and be home by dinner time. Wish me luck!
Junior Member
Join Date: Jun 2012
Location: Albany, NY
Posts: 8
Turns out I have have more options than I thought just from a brief search on the Intarwebs. Anyone have experience at any of these shops?

Twisted Synergy Motorsports
329 Columbia Street
Rensselaer, NY 12144
518-477-2955
Twistedsynergymotorsports.com

Coppola Motorsports
1 Timber Trace
Malta, NY 12020
518-772-4940
Coppolamotorsports.com

Synapse Motorsports
446 Saratoga Road
Scotia, NY 12302
518-261-1790
Synapseturbo.com
Why don't you call Howard at Redline in Pompano Beach, FL and see if he can recommend somebody for you......
---
2009 G8 GXP, SRM, M6, Onyx, Roof. (#1818 of 1829) a.k.a Gianna
Show: Tint, VG Sharkfin, 6k HIDs + fogs, 20" TSW Interlagos.
Go: BMR, GForce, MGW, Monster Clutch, 3" SOLO, Dynotech, Squash DW255s, Eibach, NLP Twin Turbo!
Stock: 363 whp/367 tq SAE (Dyno Jet) 13.149 @ 108.21 mph
Mods (older): 399 /399 SAE 12.711 @ 108.66 ,1.548 60'
Mods (old): 602/614 SAE 10 psi, 6* 11.33 @ 125.26
Mods (new): 600/631 SAE 10 psi, 10*
Junior Member
Join Date: Jun 2012
Location: Albany, NY
Posts: 8
Howard actually gave a recommendation to TSM on some vette or camaro forum somewhere so that is a fantastic idea. "Tell em I sent ya" , you know the lingo
Senior Member
Join Date: Feb 2010
Posts: 443
I have the orange one you've seen most likely. I went to coppola.
Senior Member
Join Date: Feb 2010
Posts: 443
Junior Member
Join Date: Jun 2012
Location: Albany, NY
Posts: 8
I am currently paying the piper by staying home with our 6 month old daughter while my pretty awesome wife is out of town at a New Kids On The Block concert in CT. I can use that as currency at a later date. She sounded receptive to me finally spending some money on what I want for the G8.

There is a stipulation: sell the JHP rear valance she bought me as a gift for my GTO I traded for the G8. I never did get around to getting it put on so it sits in the garage New In Box.

If there's anyone out there that wants it I can take a preemptive offer. I will need to make a number of posts before adding it to the For Sale section. It'd make more sense to post it on the GTO forum though but I have just as few posts over there and it seems silly to post on a forum for a car I no longer own.

Soon...