Senior Member
Join Date: Jun 2009
Location: SoCal
Posts: 862
Detail Clinic @ Purifoy Chevrolet // March 10th
---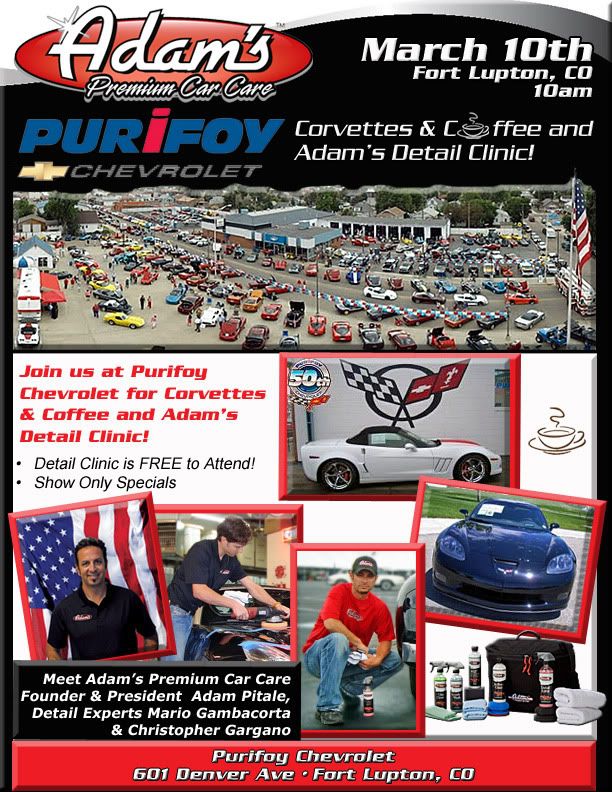 Senior Member
Join Date: Oct 2010
Location: Forest Hill, MD/Baltimore, MD
Posts: 163
Do you know if there will be any of these events in the DC/Baltimore/Philly area?
---
2009 MGM G8 GT Sport Premium - 343 RWHP
RPM Tuned, DOD Delete, LS9 Cam, Lunati Link-bar lifters and dual springs, Rotofab Intake, Ported Intake Manifold, Mid-muffler/Resonator Delete and X-Pipe, 25% UDP, 170A PPV Alternator, BP Catch Can, BMR Sub-frame Bushings, Pedders Sway's, Slotted DBA 4000 Rotors, Hawk PC Pads, Russel Braided SS Lines, ATE Super Blue, SRM Painted Calipers
20% Sides and Rear, VG Shark Fin Antenna, Kicker Comp8's in the rear deck w/ Dyna Mat
Senior Member
Join Date: Jun 2009
Location: SoCal
Posts: 862
I'll actually be in the Philly area around May 11th-12th

Keep an eye out for when I post the specifics on the forum when we make the announcements.
Senior Member
Join Date: Oct 2010
Location: Forest Hill, MD/Baltimore, MD
Posts: 163
Awesome, thanks!

I'll be looking forward to it!
---
2009 MGM G8 GT Sport Premium - 343 RWHP
RPM Tuned, DOD Delete, LS9 Cam, Lunati Link-bar lifters and dual springs, Rotofab Intake, Ported Intake Manifold, Mid-muffler/Resonator Delete and X-Pipe, 25% UDP, 170A PPV Alternator, BP Catch Can, BMR Sub-frame Bushings, Pedders Sway's, Slotted DBA 4000 Rotors, Hawk PC Pads, Russel Braided SS Lines, ATE Super Blue, SRM Painted Calipers
20% Sides and Rear, VG Shark Fin Antenna, Kicker Comp8's in the rear deck w/ Dyna Mat