Member
Join Date: Oct 2012
Location: Gillette, Wy
Posts: 60
Any wyoming G8ers?
---
I've seen a few around town but don't know if any are on the forum.
tweaky is wayyyy down there in Laramie...only one i know of.
man i miss hunting/working out by gillette...don't miss the rest of wy tho
---
09 G8 GT in Stryker Blue Metallic
Mods
Go: Vararam CAI, SLP Headers, ATI 25% UDP, Magnaflow 12468 mid-muffler, PM-FL Axleback & FE3 Shocks N Struts.
Tuned by MAC Autosports of Parker, Colorado

Show: Little Trees US Flag Vanilla Scented Air Freshener; SLP Firehawk wheels...

The Track
Best 1/4: 13.969 @ 102.70mph @ Pueblo Motorsports Park
DA of 3921', with an actual elevation of 4662'
Pueblo, Colorado
Member
Join Date: Oct 2012
Location: Gillette, Wy
Posts: 60
Ya I know alex from the grand prix days, haven't heard from him in a long time though.
Juice Addict
Join Date: Apr 2008
Location: Laramie WY
Posts: 469
I am on here from time to time. How ya been?
---
Gone but not forgotten:
1 of 35 - SBM GXP A6 w/roof #321020 (#1811 of 1829)
Thunder Racing LS3 cam, 224/236 .609/.607, 117+2; UD Crank
Custom Tune, ARH 1 3/4" LT's, Vararam, Yank 3200, Dave's plate kit
Pre-Cam: 372whp/361wtq at 7200ft,
[email protected]
, 1.84 60ft, 8574ft DA
Member
Join Date: Oct 2012
Location: Gillette, Wy
Posts: 60
Good you? I just stepped into the G8 world myself.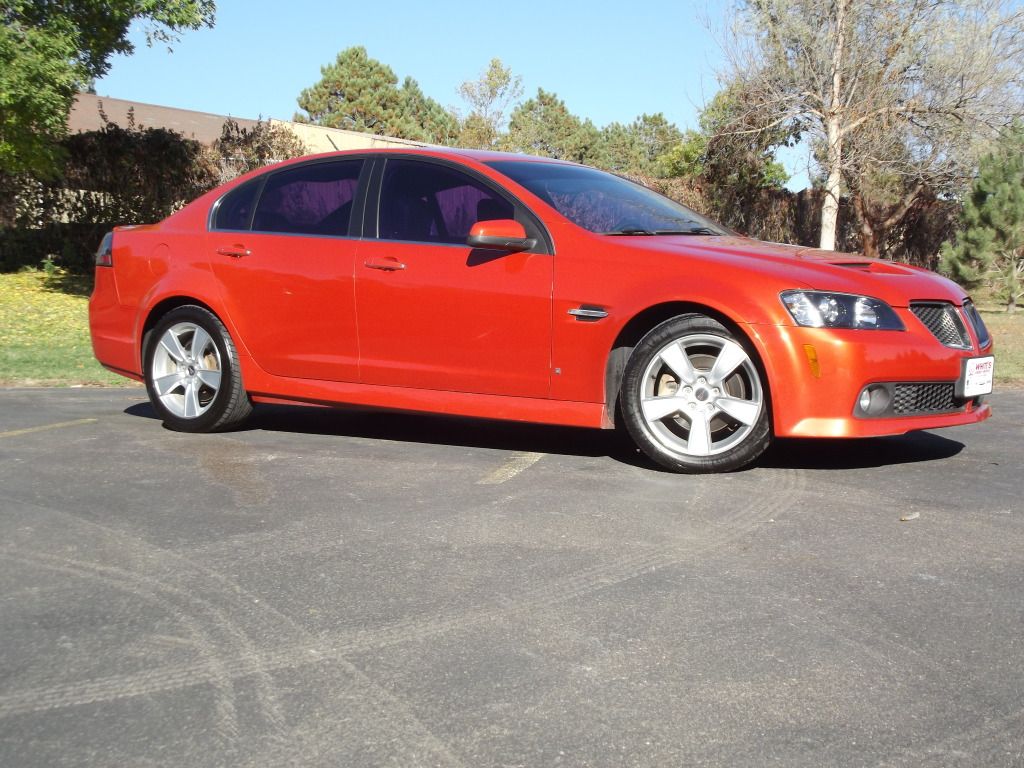 I went to UW !

My GXP has roamed Wyo from Jackson to Lander to Cheyenne.
---
White-hot G8 GXP...stock stall, NicD tune, Kooks mids, TVS2300
--------------------------------------
New crate motor Feb 2016
Mar 2017: 12.0 @ 119.5 at Tucson Dragway
Jun 2017: Comp Cam, OEM cats removed
Nov 2017: 11.9 @ 122 at Tucson Dragway, DA = 4600
Jan 2018: Re-tuned for cat removal. Pulley down to 2.8
Jan 2018: 11.7 @ 122.5 at WHP, DA = 1500 bad traction
Dec 2018: 11.7 @ 121 at Tucson Dragway, DA 4000