Detail Clinic for Camaro Club of the Rockies & Open Class - 4/20/2013
---
Adam's Camaro Club of the Rockies & Open Class Detail Clinic - April 20, 2013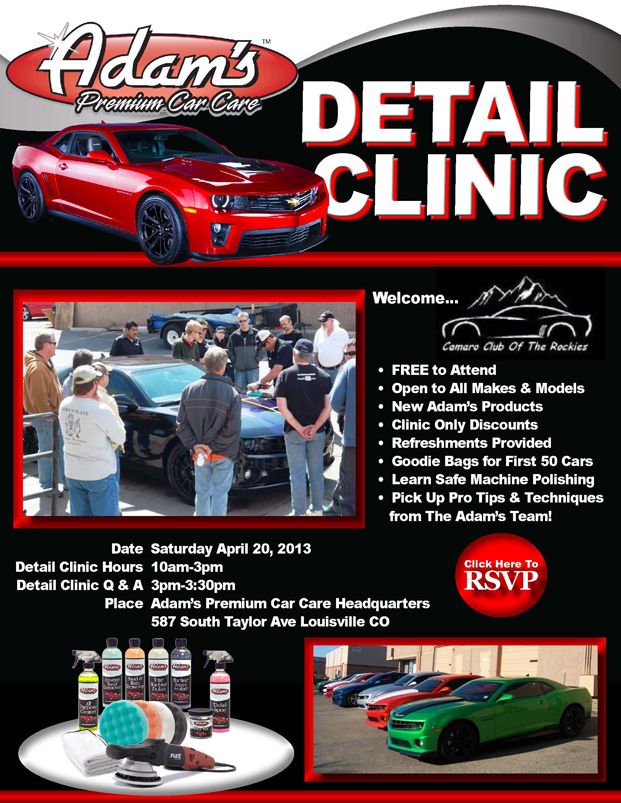 GET Directions!
---

Email :

[email protected]
Follow us on Facebook and Twitter @AdamsPolishes
USE COUPON CODE: G8 TO RECEIVE 10% OFF YOUR NEXT ORDER AT www.ADAMSPOLISHES.com
This would be cool --But there is so much other stuff going on this week...We'll see what happens. Maybe we can make it for a bit??

Thanks for sharing.....
---
'09 SBM GXP A6...CAI, Headers & Exhaust, mild cam. - 13.04 at 106.34MPH at Bandimere,
'08 IOM G8 GT...CAI, Cam, Headers, Tune, NOS -11.80 @ 122.2 MPH in Pueblo.
'11 Cadillac CTS-V Coupe
'99 Grand Prix GTP...some mods...Best ET was a 12.80 at Bandimere,
'94 T/A VorTek Super Charged & NOS - Best ET 10.2, quickest MPH 134.9 & still street legal!