I had realized a while back my factory subs were wired backwards from the factory so I installed 2 Kicker 8's and rewired them last night. Took the chance to lay down some sound mat under the rear seat which really helped out with what little drone in the car I had.

Installed BMR front and rear sway bars, Whiteline End links, BMR trailing arms and PPV shocks on Tein springs. Ordered a Circle D Billet Multi disc Torque Converter and installed the 3.27 Camaro rear end with Whiteline Poly bushings. Got in touch with Pat out in Victoria for a tune some time in the beginning of July.

Tonight is rear Brembos with Slotted/CD'd 2015 Chevy SS rotors. Also install the rear shocks since I only got the front done the other night.

Tossed a rev at a Black G8 GT off 1604 and Culebra today. Don't know who you are.

Hello Mason.
---
- Doing a little better. 379whp, Mustang Dyno, Worst Tuner in town
Junior Member
Join Date: Dec 2013
Posts: 16
---
- Doing a little better. 379whp, Mustang Dyno, Worst Tuner in town
Senior Member
Join Date: Sep 2009
Location: San Antonio, TX
Posts: 1,851
Welcome to the Discontinued Crew... Part II
---
Quote:
What's up everybody? I'm looking for a shop or even an individual local to SA that can do a bit of welding for me. While under my car I realized that one of the rear sway bar mounting brackets had completely fallen off. I bought two new brackets and was looking for someone who could weld some small strengthening gussets (the small triangular pieces with the arrows pointing towards them) to them to help this from happening again. I'm looking for something similar to the picture below. If you know of anyone or anywhere that can do this please let me know. Thanks.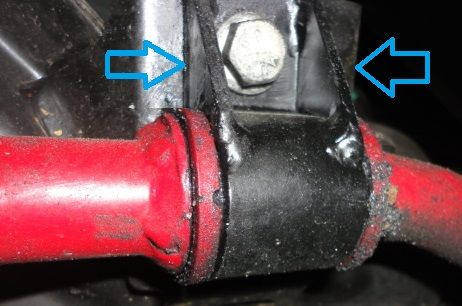 Quote:
Terry, I could most likely get that done for you. Sorry I didn't see this until now.

Dave
Well, the same thing happened again. My driver's side sway bar bracket broke and fell off. I've ordered two new brackets and I'd like to get the gussets welded in to the new brackets like in the pic above. Anyone out there with a welder?
@
RamJet
does your offer still stand?
---
Terry Scott
San Antonio, TX
2009 G8 GXP - Sport Red Metallic (#821 of 1829 / #33 of 74 as Optioned)
Roto-Fab Intake with Amsoil Dry Filter / HSRK / Kooks 1-7/8 Mids / SOLO Mach Shorty (Unbalanced) Catback / Pat G Tune / Norris Motorsports Gen2 Catch Can / BMR Swaybars / BMR Rear Trailing Arms / Tein S-Tech Springs / Koni Shocks & Struts / Whiteline Rear Cradle Bushings / Whiteline Strut Bushings /

400 RWHP / 391 RWTQ
---
Last edited by terryscott621; 05-03-2017 at

07:35 AM

.