Member
Join Date: Oct 2008
Posts: 42
9th Annual Motor4toys Charity Car Show, Sunday Dec. 2nd, 2012
---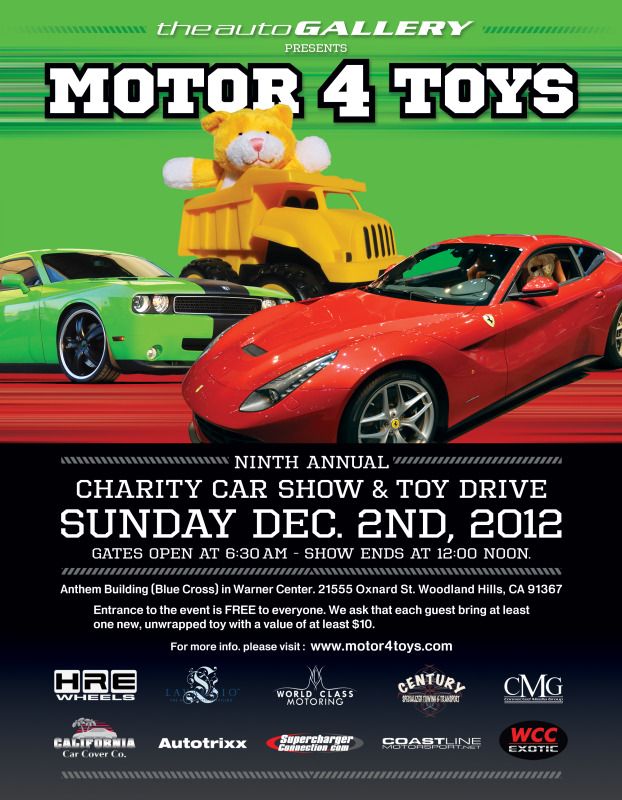 It is that time of year once again! Can you believe we have been doing this for 9 years! The goal this year is to collect over 40,000 toys for needy kids...now that is a lot of toys. Please help us hit our goal! Please mark the calendar and let's make this the best year ever!
As always, we are in need of sponsors and raffle/auction items, if you wish to support or donate, please let me know. You can also donate online at
www.motor4toys.com
. All donations are deductible as we are a 501(c)(3). We could use all the help we can get!
Thank you,
Dustin
818-516-5053
[email protected]
If you are attending the event, please rsvp here for you and your club. Follow the examples below:
1. Dustin 1968 Camaro
2. Heather 1970 Mustang Fastback
3.
Clubs:
Redline Corvettes: 50 cars
Santa Clarita Corvettes: 50 cars
Valencia Corvettes: 50 cars
Audizine: 100 cars
M3: 100 cars
Socal Chevy (55,56,57): 45 cars
Socal Mini Maniacs: 50 cars
Classic Benz and AMG: 30 cars
Stangpede: 40 cars
Modified Intentions: 40 cars
Valley Mustang Club: 50 cars
Santa Barbara Porsche Club: 40 cars
Western Collision Center: 40 cars
Coastline Motorsports 40 cars
Supercharger Connection: 50+ cars
Your Club here....
Fun video from past year:
Member
Join Date: Oct 2008
Posts: 42
I'm going...
Just registered...
I really can't believe more of us aren't going...
This thread is DEAD
---
Liquid Red GXP, Sun and stick !
#611 of 1829
Member
Join Date: Oct 2008
Posts: 42
Motor4toys is Rain or Shine! The forecast shows a dry morning!!!!!! Please come out and drop off your toys....WE WILL BE THERE!

Otherwise,

you may bring to SupercarSunday (supercarsunday.com) the following Sunday.


SEE YOU TOMORROW! THANK YOU!
I'll be there.. dirty car and all...
---
Liquid Red GXP, Sun and stick !
#611 of 1829