Senior Member
Join Date: Aug 2015
Posts: 339
Unbearable rattle
---
Hi, my car developed an unbearable rattle near the passenger HVAC. I believe I have it diagnosed down to the trim piece that goes over the HVAC vent, that has contact with the door when closed. I removed the dash pieces and the airbag cover, and it still made the noise. This piece seemed to make a similar noise when I tapped on it. So I pulled it off, and of course the 2 metal clips came off so I'll have to fish them out or buy 2 new ones (anyone have part #?). But another thing I noticed is there are 3 slots, but the trim piece only had two protruding areas where you can attach metal clips. The 3rd area does not look the same...it does not look like it takes either the metal or white clip. So either it's a weird design, or that broke off. Any ideas? The noise drives me nuts, I'm real sensitive to it for some reason.
Senior Member
Join Date: Aug 2015
Posts: 339
Found one on ebay that had a pic, looks like mine is intact and correct. Just missing a rubber trip over the other post, but I already tried putting insulation in there.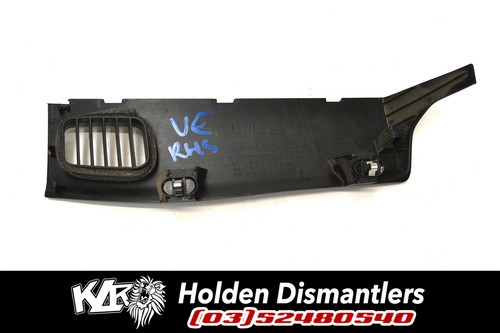 Senior Member
Join Date: May 2009
Location: Olyphant, PA
Posts: 1,336
I had a similar thing happen, but to the driver's side. It ended up being the plastic piece where the light control knob is. It was a little loose and would keep hitting off the plastic piece next to it. I solved it by using a piece of double sided tape. But, it wasn't actually tape, more of a thin foam (still double sided). I put 2 strips in between the panel pieces and no more rattle. I got it at autozone. It is grey, which blended with the interior, and the peel area was red. This was a few years back, but that was my solution.
---
Current: 2009.5 SBM G8 GT, Premium Package, Sunroof, Pat G. ECM/TCM Tune, Roto-Fab 102mm CAI, LS7/LS3 MAF, Kooks 1 7/8" LT's, SOLO HFC's, SOLO Mach-Shorty Balanced Catback, SOLO 3.5" Tips, 19" Sport Package Wheels, GXP Steering Wheel, GXP Diffuser, Neondials, VG Sharkfin II, Debadged (Except Arrowheads), Hood-Vent Mod, Lower Grille Mod

Next: RCR Modified Intake Manifold, RCR Ported TB, Powerbond UDP, Suspension Upgrades

[SIGPIC][/SIGPIC]
Senior Member
Join Date: Aug 2015
Posts: 339
Thanks! What I am noticing as I tear panels off is a lot of the glue has degraded on any insulation, making them move places and not work. I think it's the actual air vent that's causing the noise...it's loose by design and has a very thin piece of insulation to keep it from making a sound when it hits anything. If I move it around, it sounds exactly like my noise.

Going to try some insulation there once I find these metal clips that came off the other piece lol. Should be fun to try to find those.