Discussion Starter
·
#1
·
I have a thread up on the other board showing my progress through this whole process. Thought I'd make a quick post here to share my experiences with you guys as well.
Specs:
Front: 19x8.5 ET35 with 255/40/19 BFG G-force sport comp 2
Rear: 19x9.5 ET40 with 285/35/19 BFG G-force sport comp 2
Fenders were rolled flush with about a 3/8" pull on the back. Bumper bracket has not been trimmed yet, and i have not rubbed yet either.
They are very similar in design pattern to the GXP and CTS-V wheels.
For starters, the fronts fit the G8 GT stock wheels perfectly. No clearance issues and a boatload of room from the stock callipers. Although the flange seems to taper up and out from the hub, so there may be clearance issues from the Brembo....I tried to take a side shot to demonstrate this. So for anyone wanting a GXP look could go with this wheel easily all around.
Secondly, the 9.5 ET40 rears are not a direct fitment if you want to use the provided centrecap. OR...you could do a hackjob and make it fit. For starters the centrecap does not fit because of 2 issues; 1-the axle stud sticks out too far and 2- the narrow hub conflicts with the retainer tabs on the centrecap.
Here is how I made it work.
1- I ground down the taper on the axle stud (sorry no pic)
2- I milled out the back of the centre cap on the lathe.
Didn't quite fit, was missing about 1/16 of an inch, and now the conflict was the hub...
3-Filed down the tabs on the centrecap....eh voila.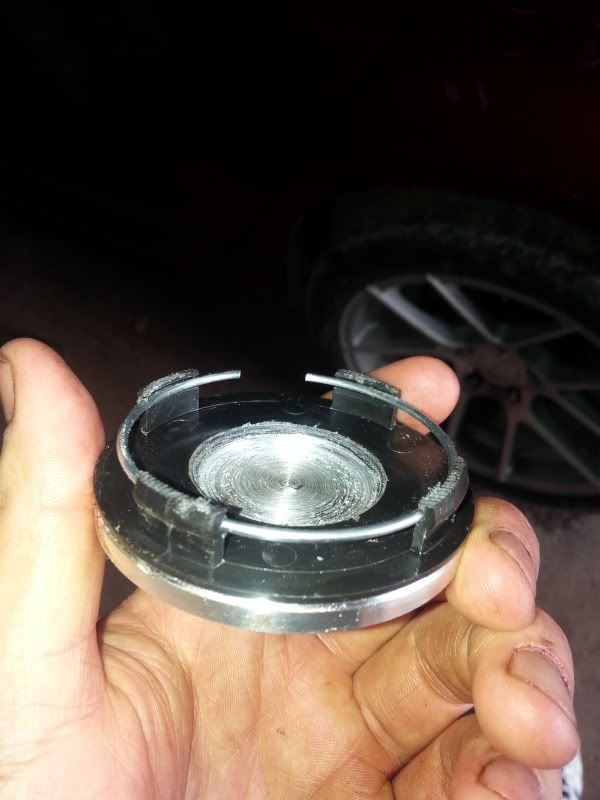 So now the caps fit, and it looks much nicer.
Got home from my Grandpas and run some suds over the car now that the snow has remelted...again.
Some pics..