First issue
The wheel speed sensors are different on the camaro. I was already aware of this ahead of time, here is a quick pic of the harness connector. I am hoping to pull the connectors apart and swap them over. If that doesnt work ill simply cut and solder the wires.
I cut the G8 connector off of the cradle and soldered each wire onto the Camaro harness.
Passenger side G8 grey wire goes to Camaro Brown wire
Driver side G8 grew wire goes to Camaro Tan wire
Camaro harness

For removal.
Pretty straight forward. Jack up the car and take the back wheels off.
Drop your exhaust.
Disconnect your drive shaft-
pull one bolt, put the car in neutral, rotate the axle to turn the shaft until you can reach another bolt, put the car in Park, remove the bolt, but the car back in neutral to rotate the shaft again ect......
Pull your calipers off and hang them off to the side. No need to disconnect the brake hoses.
Pull your ebrake cables off the knuckles.- Pretty easy they hook onto a tab on the back of the knuckle.
Unplug your wheel speed sensor harness, its the grey connector near the gas tank on the passenger side.
Remove the lower Shock bolts.
Support the cradle with a jack directly underneath the carrier. Remove the 4 bolts that hold the cradle on. 21 mm i believe. If these haven't been removed before they can be a pain. Be careful, if the they are being stubborn use a torch to heat the bolt up to melt some of the factory locktite.
Slowly lower the cradle with the help of a friend on either side to balance on the jack. It balances pretty well on the jack.
Tied Up the Calipers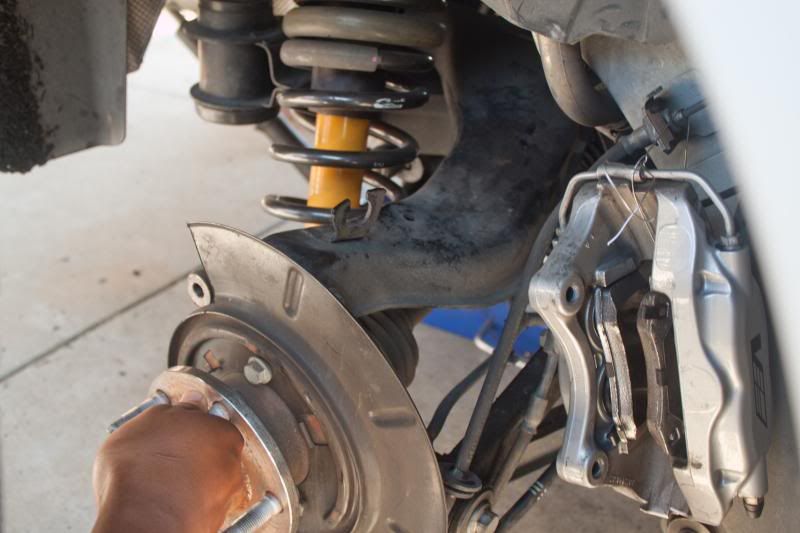 Coming Down
!