As some of you have been following my build thread.
http://www.g8board.com/forums/showthread.php?t=67244
Mods:
-ORSSOM intake,
-Ricks TB, intake manifold & ported & milled heads.
-Texas-speed cam
-Kooks 1 7/8" LT's w/ 3" x-pipe.
Car is finally finished and put down some nice numbers with a stock stall.
Peaked at 461 whp with 419 # of trq. Locked converter.
Im happy with it. The cam seems to push at a stop light im going to try and tweak the tune so it doesnt.
Dyno Vid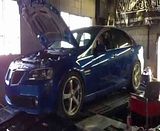 Cam specs