Discussion Starter
•
#1
•
The G8 has 4 lower control arms but this is a how-to for replacing the thinner 2 only.
Here's a pic of my old ones: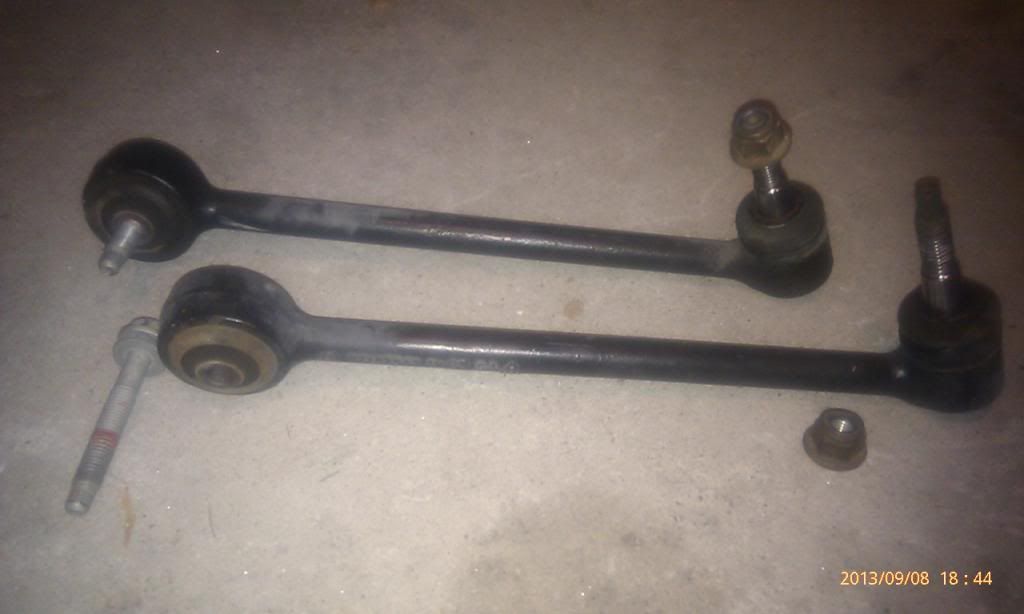 Symptoms
:
- vibration in car when applying the brakes, especially if stop is more aggressive
- vibration when taking long curves at road speed (worse if road is rippled)
- loud moaning when turning wheel at low speeds (more pronounced after driving car for a while and ball joint end of LCA gets hot from all the movement)
Diagnosis
:
- this youtube video shows it exactly as mine was
What to Buy
:
GM kit to buy includes all 4 arms and is part # 92249538. I only needed 2 of the arms but believe it or not, it was cheaper to buy the kit as a whole. It comes with new bolts and nuts. Site sponsors sell it for around $230 but because it weighs 30 lbs, I had no choice but to buy it at the dealer for more.
Remove & Re-install Procedure
:
1 - chock a back wheel with a brick or something so it doesn't roll back
2 - loosen wheel nuts while the car is on the ground
3 - jack up each front corner and put on jack stands (you may need the jack later)
4 - remove wheels
5 - with a 18mm socket and extension remove the bolt as shown on the left side of my pic - there's a hole in the frame to allow you to do that - a breaker bar (piece of pipe in my case) will give you the leverage you'll need - you'll need to remove the extension eventually as the bolt comes out and will need to use your finger or a screwdriver to push the bolt out of the frame hole once it's fully unthreaded and just spins in place - don't try to remove the nut end as it's welded to the frame
6 - with a 21mm (or 13/16th in my case) open ended wrench remove the nut on the ball joint end - right side of the pic - if you have a 21mm deep socket you'll be able to get the cheater pipe on the end - I didn't have that so hit a heavier hammer on the opposite end of the wrench to get the nut started - after that just keep turning - although this didn't happen to me, if the nut just spins round and round, use a 10mm wrench on the tip of the ball joint stud to keep the stud in place while you remove the nut
7 - the hard part now is getting the stud through the hole in the mounting hole - I bought a ball-joint fork but it did no good - just take that heavier hammer used above and whack it downwards - for me it finally popped out after maybe 5-6 whacks - if you want you can try placing the jack under a spot just next to the ball joint and lifting it up a bit so the LCA is a bit more horizontal - I tried that but not sure it did anything
8 - you can now put the new arms in and use the new bolts and nuts that are in the kit - the bolts have a 1/2 inch or so of threadlock around them - I didn't torque them or the nuts to any specific #, just enough that it was on very tight - on the 2nd arm I had the nut just spin round and round while tightening it down but soon realized the top of the stud needed to be held in place with a 10mm wrench so it didn't spin as well (same as mentioned in point 6 above)
It took me 2 hours from start to finish but as is typical on a first attempt you learn as you go & I did the 2nd arm in about a half hour.
Overall, a simple procedure but do ensure you have a heavier hammer with some weight to it ($9 at Harbour Freight/Princess Auto in Canada) for poppig the studs through.
Anyway, hope that helps someone out.
Props btw to Jackalope who was helpful in giving me some tips over PM before I started the job.