So started my cam swap weds 4/17 and finished sat 4/20, Did all the work by my self had a buddy that was supposed to help but he got stuck working 16's thurs , fri and sat. Worked about 2 hours on weds and got the, roto-fab off, radiator, intake, and made sure all the maniflods bolts would break free, And they all did with ease.
Thursday worked from 630 to 930 and managed to get everything apart and prepped for re-assembly.
Friday worked from 630 to 9 and got the valve springs and seals installed on heads. Installed the headers, placed heads on block and realized i had the wrong head bolts. I had 04 and older ls1 block head studs, which are too long. So made a few phone calls and was stuck till the morning.
Saturday got started at 1130 after i got back from swapping the studs for the right bolts.
Got the heads torqued and headers bolted up and decided to cut 1 in off the pacesetter headers, where they hook to the connection pipes, and welded the connection pipes to the headers and got them all bolted up. This was probably the most time consuming part. Finished installing pushrods, rockers, intake and hooked up the pcv stuff.
Then moved on to radiator, first trans line i go to hook up and push the spring clip in place it goes flying somewhere, looked for the SOB for like 15 mins, then ran to orielys hoping they had one and they did. Got back and buttoned everything up.
I think it was running before 4pm.
Only issue i had after that was header hitting the steering shaft so removed driver front wheel, and welded a 1/2 socket to a long punch heated the header red hot and gave her some love taps, Problem solved.
Also took the computer/PCM out so i could have livernois flash a cam tune to it and let me tell you that was one task in it self.
Took a bunch of pictures only gonna upload the main ones, Enjoy.
First the car
The puzzle pieces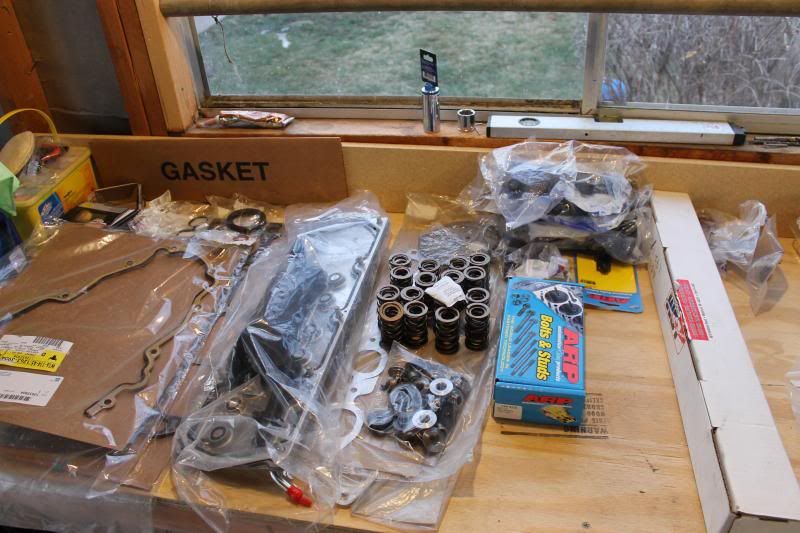 Livernois 1C Cam Livernois Motorsports Dual Valve Spring Package (Livernois Motorsports Dual Valve Springs, Titanium Retainers, Valve Spring Locators, Locks, & Valve Seals)
ARP Head Bolts
MLS Head Gaskets
Hardened Pushrods
GMPP LS7 Lifters (16)
GMPP LS2 Lifter guide (4)
GMPP LS2 Valley Cover
GMPP Valve Cover Breather Block-Off
GMPP LS7 Camshaft Sprocket
GMPP Timing Chain Dampner
GMPP PCV Hose
GMPP LS2 Lifter guide kit
GMPP Exhaust Gaskets
ARP Timing Chain Bolts
2 Water pump gaskets
Timing cover gasket
Crankshaft shaft seal
Pacesetter headers