New project: Bronze plasti dipped GXP wheels *Updated with Pics*
Hey guys. I have been thinking about getting a new set of rims for my GT (Liquid Red). Currently, I am running the factory GXP wheels and I like the style very much. However, I recently saw the "sunken treasure' powdercoat and instantly fell in love with the color.
I was seriously considering selling the GXP wheels and ordering some aftermarket wheels for the car. THEN I saw a video by DipYourCar.com that showed how to achieve a deep bronze color with the plasti dip. (
http://youtu.be/rOtQ320LzyY
if you care to watch).
I am thinking of trying for the Matte Black + Bronze metalizer to achieve the deep bronze color that they ended with in the video. the color is probably not quite as glossy or nearly as much metal flake in the plasti dip as is in the "sunken treasure" color, but it will get me close for much cheaper.
What do you guys think of the idea? Essentially I could get into bronze colored wheels for 30-40 bucks.
Also, I will be doing the chrome door trim and the chrome on the door handles, as well as the front grilles and hood scoops. Should I do all of this in a simple matte black? Or, should I use the copper metalizer on that as well and try to match it with the wheels?
Any comments or concerns here are appreciated. I figure if I get it all done im out less that 100 bucks and my time.
Thanks.
*PICTURES* They are small. Working on getting some better ones.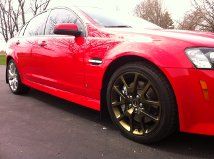 I only did 1 rim to get a feel for the plasti dip and the color combo. I am a fan. I will have to start looking for some black lug nuts.