Congratulations to Lethal_427!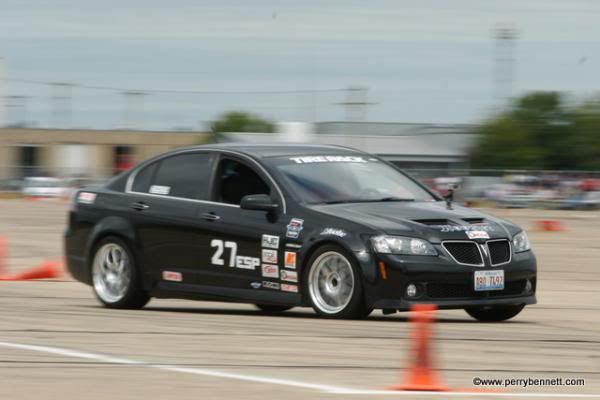 Lethal_427's 2008 Pontiac G8 GT W/Premium Package:
"The car is a daily driver and serves as a family hauler during the week. On the weekends it sheds the kids car seats and dons the Hoosier race slicks!

I ran the G8 in the SOLO series in the St. Louis SCCA Region and took 2nd in the point series for ESP class and won the Novice Championship this year. The picture of the car was taken at the 2010 Solo Nationals by Perry Bennett Photography which I purchased for use in this contest.

Here is a link to one of my Solo track video's with a passenger.

The list of mods include: Volant CAI, ECM/TCM Tune by Shane, DMH "Low Profile" Exhaust eCutouts, Eibach Springs, BMR Adj. Front and Rear Sway Bars, Koni Shocks, Performance Alignment, BMR Bushings, Hawk Brake Pads and Power Slot Slotted Rotors. Some future mods include the K-mac adjustable camber system and coil jackers, along with some long tube headers.

Appearance Mods are Tinted Windows 45% front and 20% rear, De-badged except for Pontiac Arrows and GXP rear diffuser.

Thanks to everyone that for voted for me!!!"