Discussion Starter
·
#1
·
I know others have done similar things in the past, but last week I finally completed a project I've been wanting to do for a while and wanted to share:
BEFORE:
(Everyone knows what a stock dash looks like...)
AFTER:
This is a Holden Omega iQ head unit and associated dash trim pieces. It's similar to the Chevy Caprice PPV unit but apparently has some differences (per Chris White). I really wanted a full on Holden iQ unit, but the price of doing that right was going to be fairly prohibitive, so I went with the second best option I could find. I found a place selling kits on Australian fleaBay which included the head unit and all the dash trim. All in, including shipping from Down Under, reprogramming by Chris White and installation by a professional installer, I spent about $850 on this. Still pricey, but worth it to me for the stock look.
Overall, this is actually fairly primitive compared to modern infotainment systems, but it works well and hits the high points including a USB connection, backup camera and Bluetooth streaming. I was terrified of tearing into this dash myself (knowing that I would break something) so I had a local professional installer help me out with it. He shot me a good deal on this, so I was happy to let him do it. I put a USB port (combined with Aux In) in the front of the inside center console cubby, so it's normally hidden away. Also had a backup camera installed as well. The backup camera shows up really well on the screen (sorry, I haven't been able to take a picture of it yet). And, of course, I gained the ability to make phone calls.
The only drawbacks to this unit are:
1. I lost the use of my center speaker (no great loss as it wasn't that great anyway, but the full Holden IQ unit will still drive the center speaker as well). The sound is still good enough for my use (my hearing isn't all that great to begin with).
2. I lost XM Radio (not available in Australia, so it's not in the radios). No worries there because I can stream it from my phone.
3. Everyone once in a while my DIC will give me a message that "Navigation is not Installed" when I first start the car.
4. When Bluetooth streaming, the screen only shows a "Bluetooth streaming..." message and not information about what audio is playing. I can live with that.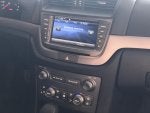 All the steering wheel controls work, just as you would expect.
I'm happy with this install. It's not the full iQ (and the trim for that unit looks a bit fancier) but it's good enough for what I wanted, looks factory and is a nice upgrade over the stock G8 radio.