I was lucky enough to get into the second group buy last summer for these Kooks 2" long tube headers that are sold exclusively at G8only.com. Since then I changed my exhaust plans and won't be using them.

If you have the Kooks exhaust system, these headers will fit perfectly. They will also connect to Solo and Corsa exhaust systems if you have the connection pipes.

More info

Asking $1,200 firm, shipped or picked up. PM me if interested.

Prefer Paypal straight up. No markup for Paypal fees. No gift option as payment.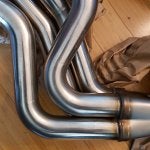 FS: Solo to Kooks LTH 3" Catted Connection Pipes - New
Also, as a reminder, I do have the Solo-to-Kooks 3" catted connection pipes for sale too.
I bought these and then discovered I cannot use them with my current exhaust. Yes, I am getting Kooks long tube headers in the near future but will be connecting them to a non-Solo catback exhaust system. I thought I could modify these to work but then realized a solution where I will reuse the...
www.g8board.com
Extended Reading
My original exhaust plans this year, in order to upgrade back to long tube headers with the Xforce Varex 3" exhaust system (XFO-ES-VF73-VMK-CBS) was to use the components above. In the time I ordered them, I found a simpler solution using Stainless Works long tube headers (either 1 7/8" or 2" at the same price) that come with slip-on catted connection pipes and lead pipes that will connect directly to the straight pipes of the Xforce Varex exhaust with nothing more than additional straight pipe to make up the difference. The best part about the catted connection pipes is that they are available as replacement parts and require no welding, cutting or modification to replace.