Discussion Starter
·
#1
·
I bought SteveGTs G8 in late January. He had taken extremely great care of it, and had installed some very tasteful modifications. But of course I had to make it my own. When I picked up the car it had a tad under 19000 miles, and when I returned home it had 19200 on the clock(Has 21200 now... isn't my DD).
The first thing I did was raise the car a little(1.5"). I asked Steve to lower it all the way down like he had before; not knowing how extreme it was. It looked killer, but wasn't fathomable for the roads around here. I then took it to a local performance shop and got it re-aligned. The 2nd thing I did was order a SOLO Mach Axle-Back with 3.5" tips to replace the factory axle-back with the "washer mod." It sounds absolutely insane!
A few weeks after I owned the car I had taken it to my tuner and got him to look over the car. He had found a few vacuum leaks on the FAST manifold and also on the RotoFab Intake couplings. So after fixing those(The FAST was a PITA) he immediately re-tuned the trans, WOT and driveability. The PatG tune was great, but Steve had installed a RickC Ported TB, and hadn't had the chance to re-tune it. I then took it to the track on the street tires and clicked off a
[email protected]
on a full tank of gas(The same times Steve ran on street tires). The car made 403/369 on a Mustang Dyno.
Soon after I started working on some visual modifications. I started with a Emblem I had my friend Jaison over at Third Shift Studios make to my desire. Then I installed a VG Sharkfin. Then I ordered some new CCW center caps(The CCWs have LPE Center caps). I still have not been able to install those yet.
About 4 weeks ago I purchased a Vararam for an insane deal. I then had my tuner do a quick before/after tweak(I couldn't get my car on the Dyno for a few weeks) I liked the RotoFab, but couldn't pass up the deal on the Vararam. From my experience with my GTO(Had a House of Power OTR and picked up 23WHP and GREAT throttle response) I knew I would like the better throttle response of the Vararam. I ended up going to another friends well known LSx shop and put it on his Dyno because my tuner just didn't have the time at that time. Granted this was a DynoJet, I knew I wouldn't get real world comparing numbers, but I wanted to check my tune and make sure my A/F's were good(they were a little off, so we adjusted it 2%). The car made 436/403....but again that was Mustang vs DynoJet numbers.
My latest mofications have been a B&M Supercooler, and I just installed some Deep Red Spyder LED Tail Lights. I noticed alot of people were going with the Black, or the tinted deep red ones, and I had done black on my last 2-GTOs......so I opted for these. I think they came out GREAT and I haven't seen them on any other G8s besides the one on Maverick Mans website. I also re-installed the chrome grille surrounds.
Anyway....sorry for the rambling. Here are some sub par pictures and a video of the exhaust. I plan on getting some better pictures taken after I polish the wheels and install the CCW center caps. I also did a in-car sound test on my GoPro that I've been trying to upload, but PhotoBucket doesn't seem to like the 8:50 video.
Grille Surrounds re-installed: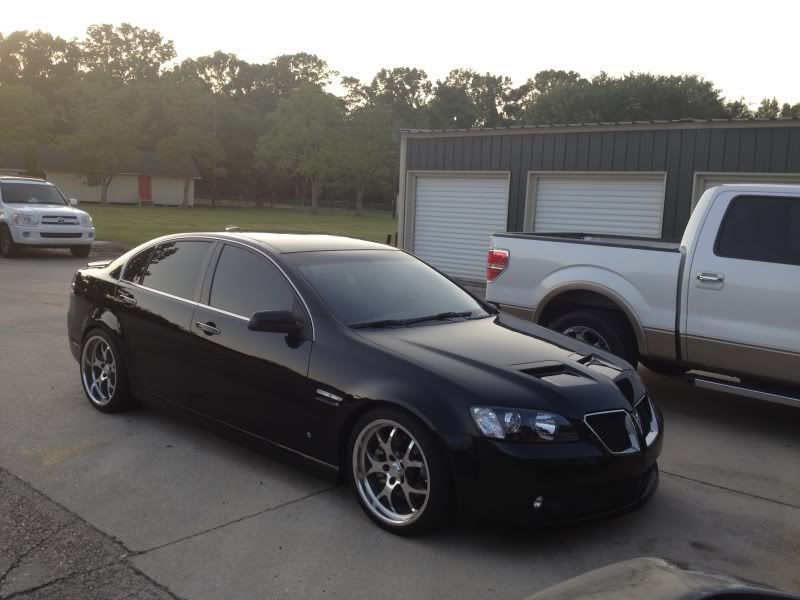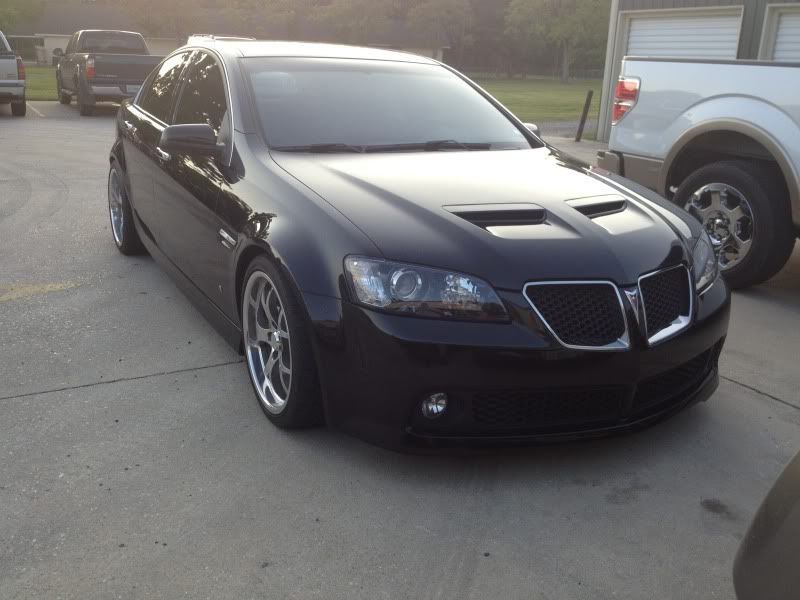 New Tail Lights: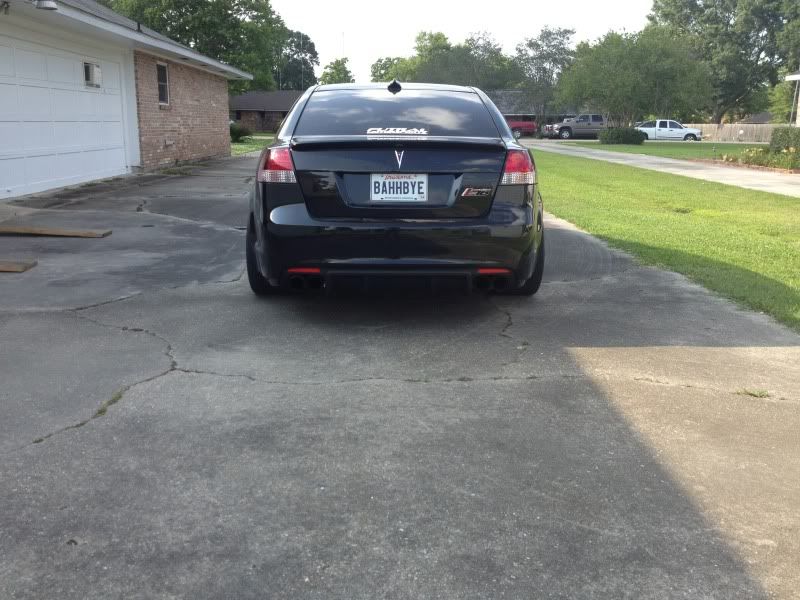 Stickers coming off....I tried it....cant do stickers. lol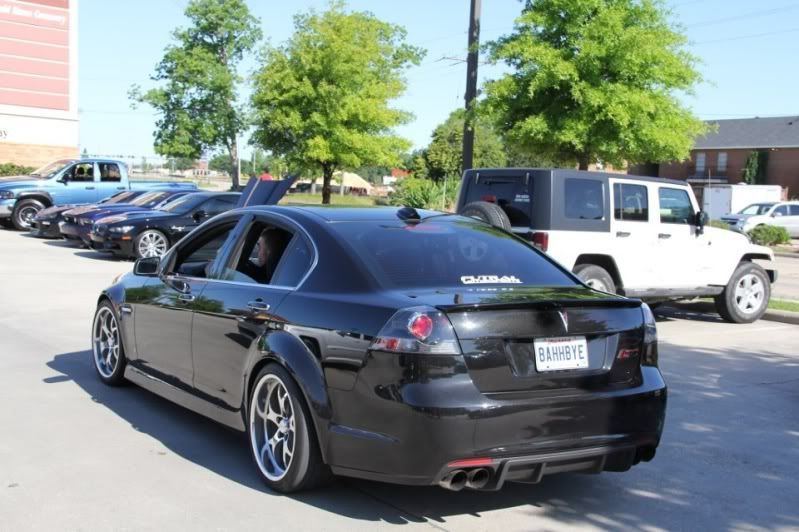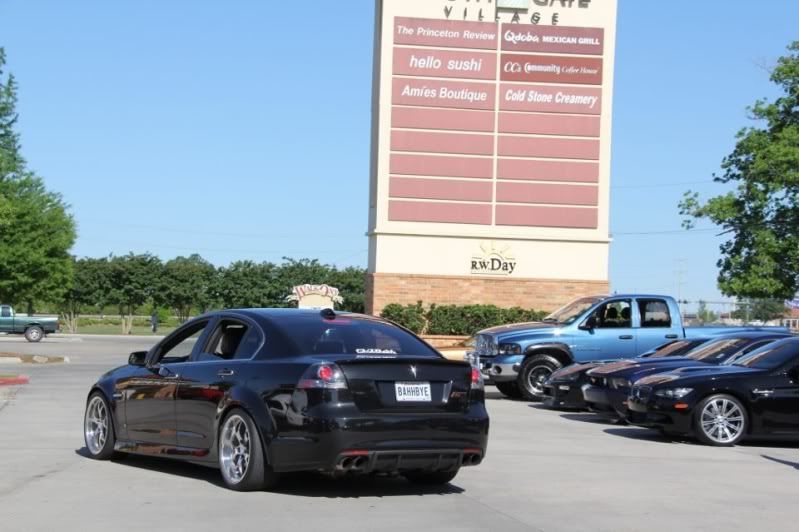 Badge:
Closest picture I have: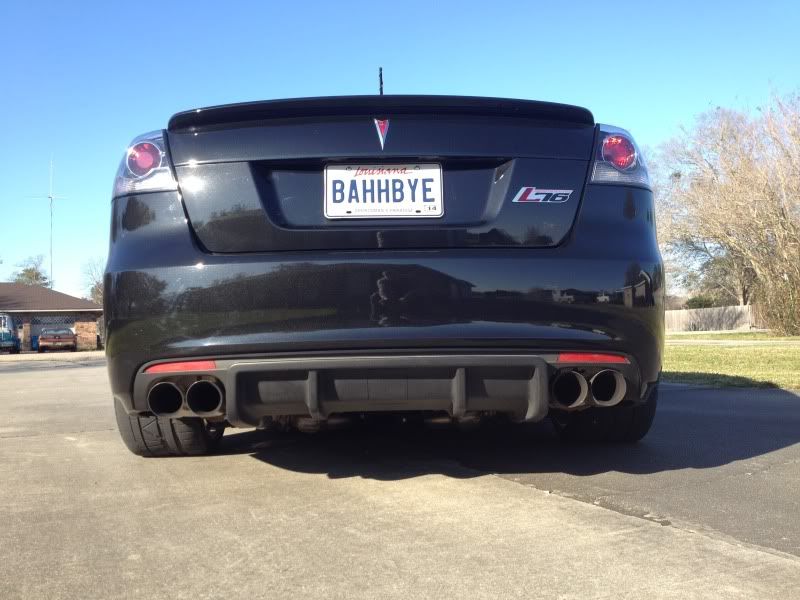 Exhaust Video: