My G8GT is sadly gone to a new home
Here are the leftover parts & pieces available:
(Shipping cost not included)
Tail Lights:
Excellent original condition.
Full set $195
Individually $100ea.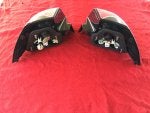 California Ultraweave Car Cover:
6 months old, great custom fit. $250
Stock Air Box:
Great shape, all parts there. $50
Tire pump:
Never used, $???
AutoCal:
All cables, used for Pat G tune once. $100
t